Quail sang choy bao recipe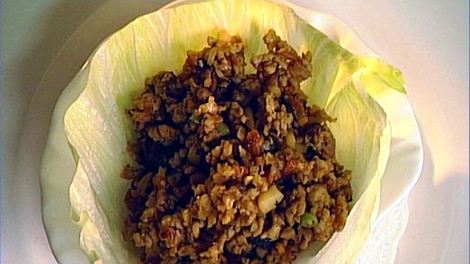 Ingredients
4 quails (approx. 160g each)
1 1/2 Chinese sausages, finely chopped
50g finely chopped onion
50g finely chopped water chestnuts
50g finely chopped bamboo shoots
3 medium-sized Chinese dried mushrooms, soaked 45 minutes, rinsed then chopped finely
2 stalks finely chopped spring onions
1/2 tbsp Shao Hsing wine
1 tsp dark soy sauce
1 tsp oyster sauce
1/2 tsp sesame oil
1/2 tsp salt
1/2 tablespoon potato flour
1/4 tsp salt
2 1/2 tbsp water
1 – 2 heads iceberg lettuce
View conversion table
Preparation
Choose only the well-shaped inner leaves of the lettuce, discarding the loose outer leaves and wash well under cold running water. Dry well and neatly trim the edges of each leaf. Place in the refrigerator for several hours to crisp.
Using a sharp knife, de-bone the quails and finely chop the filleted meat. Gently mix in the marinade.
Mix seasoning in a small bowl.

Cooking Heat 1 1/2 tablespoons peanut oil in a pre-heated wok until the oil just begins to smoke a little. Stir-fry the quail meat and Chinese sausage quickly until both begin to brown.

Add the remaining ingredients to the quail and toss together for 1 – 2 minutes to combine the flavours well. Add the seasoning, combining for a few seconds. Serve the minced quail in a shallow dish garnished with fresh coriander sprigs.

To serve
The minced quail is spooned by the individual diner into a crisp lettuce cup, wrapped up like a parcel and eaten with the fingers.
If you enjoyed this Quail sang choy bao recipe then browse more Chinese recipes, meat recipes and our most popular hainanese chicken rice recipe.
Chinese Restaurants
Displaying 10 of 815 Chinese Restaurants.
PLEASE NOTE: All submitted comments become the property of SBS. We reserve the right to edit and/or amend submitted comments. HTML tags other than paragraph, line break, bold or italics will be removed from your comment.
Featured Food & Recipes
Hot Tips
More
Smoking with paperbark (native Aust)
You can use Australian native paperbark in place of baking paper when cooking en papillotte. Simply fold the paperbark around a fillet of fish (including any other herbs and spices) and fold the open ends inwards. Secure with string (as you would tie a birthday present) and cook on the barbecue. Paperbark is not edible.
Glossary
More
Gai Lan
Gai Lais also is also known as Chinese broccoli and has thick mid-green stems. A very popular vegetable dish in Chinese restaurants, simply steamed and served with oyster sauce.