Pork braised in coconut juice with eggs recipe (thit heo kho)
Created by
Nhut Hunyh & Jeremy McNamara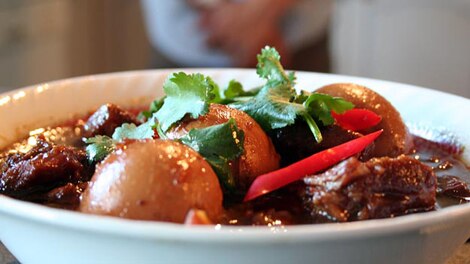 Cuisine:

Vietnamese

Prep Time: 3 hr(s) 25 min(s)
Cook Time: 2 hr(s) 25 min(s)

Serves 6–8
For Nhut and his seven brothers and sisters, this dish was looked forward to all year – his beloved mother used to prepare it for Vietnamese New Year. He says, 'In the years when we were farmers and very poor in the Vietnamese countryside, meat was hard to get so this dish was so good ... And now I love watching the silence as people discover the rich flavours of this great regional Vietnamese dish in my restaurant.'

Coconut juice – the clear water from the centre of the coconut rather than the milk or cream that is extracted from the flesh – imparts a sweet, mellow coconut flavour to the dish and is available frozen from Asian supermarkets.

Ingredients
1 kg pork belly (not too fatty), cut into 5 cm cubes
2 garlic cloves, finely chopped
4 shallots, finely chopped
2 spring onions, bruised and finely chopped (roots included)
3 tbsp fish sauce
3 tbsp light soy sauce
1 ½ tbsp dark soy sauce
½ tsp freshly ground black pepper
2 tbsp grated palm sugar or dark brown sugar
4 star anise
1 tbsp vegetable oil
½ onion, finely chopped
750 ml young coconut juice
375 ml water
8 eggs, hard-boiled and peeled
coriander
View conversion table
Preparation
Combine the pork, garlic, shallots, spring onion, fish sauce, soy sauces, pepper, sugar and star anise in a bowl, stirring to coat the pork. Marinate in the refrigerator for at least 3 hours or ideally overnight.

Heat the oil in a large, heavy-based saucepan and add the onion. Fry until golden then remove the pork from the marinade and add to the pan. Seal over high heat. Add the marinade, coconut juice and water. Bring to the boil and skim off any scum that rises to the surface. Gently simmer for 1 hour, skimming occasionally. Add the eggs and simmer for a further hour. Garnish with coriander and serve with jasmine rice.

SBS cook's notes
Oven temperatures are for conventional; if using fan-forced (convection), reduce the temperature by 20˚C. | We use Australian tablespoons and cups: 1 teaspoon equals 5 ml; 1 tablespoon equals 20 ml; 1 cup equals 250 ml. | All herbs are fresh (unless specified) and cups are lightly packed. | All vegetables are medium size and peeled, unless specified. | All eggs are 55–60 g, unless specified.
If you enjoyed this Pork braised in coconut juice with eggs recipe (thit heo kho) then browse more Vietnamese recipes, meat recipes and our most popular hainanese chicken rice recipe.
Vietnamese Restaurants
Displaying 10 of 276 Vietnamese Restaurants.
PLEASE NOTE: All submitted comments become the property of SBS. We reserve the right to edit and/or amend submitted comments. HTML tags other than paragraph, line break, bold or italics will be removed from your comment.
Featured Food & Recipes
Hot Tips
More
Black Forest Cake
A pinch of salt in the chocolate, custard mousse mixture will bring out the flavour of the chocolate
Glossary
More
Seaweed
Seaweed (kim) is eaten as a crispy snack in Korea in toasted sheets which can also be finely shredded and used as a garnish.