Gnocchi with saffron and broadbean sauce recipe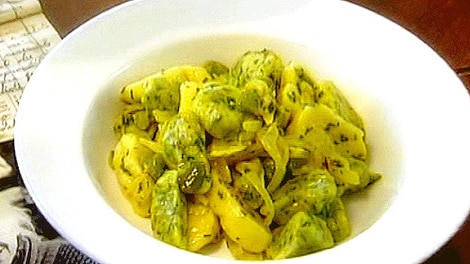 Ingredients
Gnocchi
Small handful flour
1 potato, cooked
1 egg
1 tbspn parmesan, grated
50g spinach, cooked and well drained of any excess liquid

Sauce
1 knob butter
1 large onion, peeled and finely sliced
10 broad beans, peeled and blanched
3 ladlesful chicken stock
Pinch saffron threads
¼ handful flat leaf parsley, finely chopped
Salt and pepper to taste
Fresh grated parmesan to serve
View conversion table
Preparation
Gnocchi
Pour a small handful of flour onto the benchtop and make a well in the centre.

Peel a potato. Squeeze potato through a potato press into the flour well. Make another well with the potato and flour.

Crack an egg into the well, leaving the egg whole. Grate parmesan into the well on top of the whole egg. Sprinkle salt on top.

Now beat the egg with a fork, gradually combining with the flour, potato and parmesan. Add the spinach. Mix it in and knead the dough into a longish roll, about 2 cm high and cut into 2 cm pieces.

With thumbs or a fork, form gnocchi shapes making an indent in each piece.

Bring water to boil in a pasta pot and while waiting for it to boil.

Sauce
Melt butter in a fry pan and add the onions. Cook for about one minute before adding the broad beans.Add a ladle of chicken stock to the pan and simmer for 2 minutes Add a second ladle of stock.

Add a pinch of saffron threads, crushing them with your fingers as you sprinkle them. Add parsley, stirring and simmering for one minute. Add a third ladle of stock.

Simmer for a few minutes until the sauce reduces and thickens, adding a little more stock if needed. Season to taste.

When water in pasta pot comes to a boil, add ½ handful of salt and then the gnocchi. Boil till the gnocchi rise to the top. Spoon the gnocchi into the sauce in the frypan and mix while still simmering.

Grate fresh parmesan onto the gnocchi. Toss well and serve immediately.
If you enjoyed this Gnocchi with saffron and broadbean sauce recipe then browse more Italian recipes, pasta recipes and our most popular hainanese chicken rice recipe.
Italian Restaurants
Displaying 10 of 2165 Italian Restaurants.
PLEASE NOTE: All submitted comments become the property of SBS. We reserve the right to edit and/or amend submitted comments. HTML tags other than paragraph, line break, bold or italics will be removed from your comment.
Featured Food & Recipes
Hot Tips
More
Shredding Kaffir Lime Leaves
To make shredding Kaffir lime leaves easier, first roll the leaves up tightly then use a sharp knife to cut finely across the roll.
Glossary
More
Mulligatawny
A lightly thickened curry-flavoured meat-and-vegetable soup highly seasoned with curry and spices originating from British India. Adopted by the British and especially popular in Australia.