Chicken tajine with preserved lemon and olives recipe
Created by
Hassan M'Souli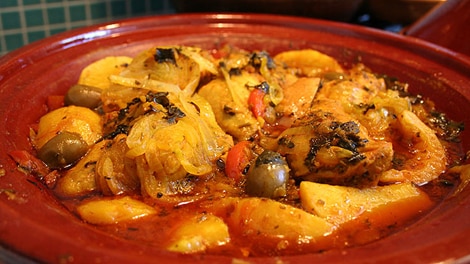 Cuisine:

Moroccan

Prep Time: 3 hr(s)
Cook Time: 45 min(s)

Serves 6
This dish is wonderful. Although it takes a little while to prepare, all that fades when you bring the tajine to the table, lift off the conical lid and watch as your family and friends take a deep, satisfied breath. Serve with couscous and harissa. Like curries, it is even better on the second day.

Ingredients
Chermoula marinade
2 garlic cloves, chopped
½ preserved lemon, rind only, rinsed and finely sliced
2 onions, chopped
½ small red chilli
1 tbsp sweet paprika
1 tbsp ground cumin
2 tbsp chopped coriander
2 tbsp chopped flat-leaf parsley
2 bay leaves, torn in half
½ tsp saffron threads, soaked in a little water
125 ml olive oil
salt
1 small chicken (1–1.2 kg)
2 tomatoes, 1 chopped, 1 sliced
2 onions, 1 chopped, 1 sliced
2 large potatoes, cut into wedges
150 g pitted green olives
1 bunch coriander, chopped
250 ml water
1 preserved lemon, rind only, rinsed and cut into 6 or 8 wedges
View conversion table
Preparation
Combine the marinade ingredients in a food processor and blend until finely chopped and thoroughly combined. Leave for 30 minutes before using (or you can make this up to 7 days in advance and store it in the refrigerator).

Wash and dry the chicken. Cut out the backbone and trim off the wing tips and any excess fat. Chop into pieces. Place in a bowl and rub with half of the marinade. Refrigerate for at least 2 hours or ideally overnight.

Combine the chopped tomato and onion with a little more marinade and spread over the base of a tajine (this will prevent the chicken from burning on the bottom). Arrange the chicken pieces in the centre of the tajine. Coat the potato wedges in a little more marinade and arrange around the chicken. Top with the sliced onion, then the sliced tomato, and push the olives into the gaps. Combine the remaining marinade with the coriander and water and pour over the top. Decorate with preserved lemon wedges.

Cover the tajine with the lid and cook over a very low heat on the stove for 45 minutes. Don't stir or lift the lid during cooking.

Take the tajine to the table and serve with couscous and harissa.

SBS cook's notes
Oven temperatures are for conventional; if using fan-forced (convection), reduce the temperature by 20˚C. | We use Australian tablespoons and cups: 1 teaspoon equals 5 ml; 1 tablespoon equals 20 ml; 1 cup equals 250 ml. | All herbs are fresh (unless specified) and cups are lightly packed. | All vegetables are medium size and peeled, unless specified. | All eggs are 55–60 g, unless specified.
If you enjoyed this Chicken tajine with preserved lemon and olives recipe then browse more Moroccan recipes, meat recipes and our most popular hainanese chicken rice recipe.
Moroccan Restaurants
Displaying 10 of 56 Moroccan Restaurants.
PLEASE NOTE: All submitted comments become the property of SBS. We reserve the right to edit and/or amend submitted comments. HTML tags other than paragraph, line break, bold or italics will be removed from your comment.
Featured Food & Recipes
Hot Tips
More
Over crowding the deep fryer
Do not over crowd your deep fryer. The fried food must have bubbling hot oil all the way around it for it to cook evenly and quickly. If you put too many ingredients in the deep fryer at once it will reduce the temperature of the oil resulting in a soggy mess.
Glossary
More
Agar-Agar
Based on seaweed and used as a stabiliser or thickener in many food products, agar-agar is a vegetarian alternative to gelatine. It is sold in many of the large supermarkets in powder form, as flakes and as bars.