Jerusalem artichoke potato cakes with red onion jam recipe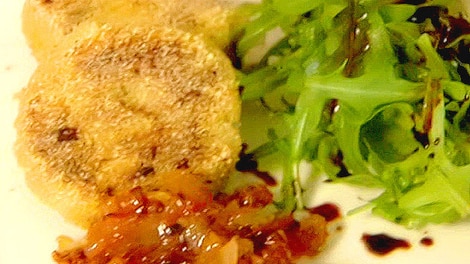 Ingredients
Potato cakes
½ kilo mashed potatoes
8-10 small Jerusalem artichokes
1 medium onion diced, fried without colour
1 tbspn chopped fresh thyme
3-4 tbspn hazelnut oil
1 tbspn Dijon mustard
Fresh breadcrumbs*
Fine polenta meal
Seasoning to taste

Chilli jam
1 large red onion, sliced
Olive oil
1 cup sweet chilli sauce

Rocket salad
4 handfuls wild rocket
1 cup balsamic vinegar
4 tbspn pear concentrate**
*please note that for a gluten-free version of this recipe a breadcrumb substitute must be used
**available at health food stores
View conversion table
Preparation
Potato cakes
Combine all ingredients except polenta. Slowly work breadcrumbs* into mixture to form about 8 cakes.

Roll cakes in polenta. Gently pan fry or deep fry till crisp.

Chilli jam
Slowly fry onion in oil until caramelised, about 10 minutes. Add chilli sauce. Place on a chopping board and roughly chop the mix to create a slightly chunky jam.

Rocket salad
Place balsamic in saucepan and simmer till reduced by half. Stir in pear concentrate.
Toss through rocket leaves.

To serve
Place the rocket on the plate and top with the artichoke and potato cakes. Drizzle with the chilli jam.
If you enjoyed this Jerusalem artichoke potato cakes with red onion jam recipe then browse more Israeli recipes, vegetarian recipes and our most popular hainanese chicken rice recipe.
Israeli Restaurants
Displaying 9 of 9 Israeli Restaurants.
PLEASE NOTE: All submitted comments become the property of SBS. We reserve the right to edit and/or amend submitted comments. HTML tags other than paragraph, line break, bold or italics will be removed from your comment.
Featured Food & Recipes
Hot Tips
More
Light olive oil
Olive oil can be labeled as "light" however don't be fooled to thinking this means it is light in calories. The "light" label refers to the oil being light on taste or colour - not on fat.
Glossary
More
Biber Salcasi
A red pepper paste which can be hot or mild.