Crispy fried pork with apple sauce and sweet and sour cabbage recipe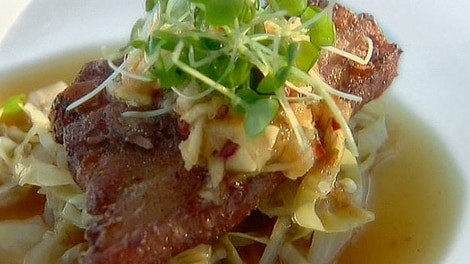 Ingredients
1/4 pork belly, cleaned and boned

Marinade
2 star anise
70 gm palm sugar
2 red chillies, chopped
125ml Shao Xing rice wine
50ml soy sauce
50 ml mirin
½ tspn ginger, chopped
½ tspn gm garlic, chopped

Chilli Sauce
100 gm sugar
100 ml water
2 large red chillies
1/2 tsp garlic
1 apple, grated
30 ml rice wine vinegar
10 ml lime juice
fish sauce to taste

Sweet and Sour Cabbage
1 onions, sliced
1/4 cabbage, chopped
½ tsp fennel seeds
2/3 cup white wine
salt and pepper to taste
View conversion table
Preparation
Blend star anise, chillies, ginger and garlic. Place mixture into bowl and stir in other ingredients.

Marinade pork belly in the mix overnight.

The following day, steam pork belly for approx 20 mins.

Allow to cool and slice across the grain into 1 cm strips. Coat each piece with rice flour and deep-fry for approx 3-4 mins until crisp.

Chilli Sauce
Place sugar into simmering water until dissolved. Blend other ingredients until a paste is formed. Add the mixture into the sugar syrup.

Sweet and Sour Cabbage
Sautee onions for 3 minutes in oil. Add cabbage and fennel seeds. Simmer for a further 3-5 minutes over medium to high heat.

Add white wine and simmer with lid for a further 30 minutes.

Place a portion of the cabbage in the centre of a plate, top with pork and drizzle chilli sauce over the lot. Enjoy.
If you enjoyed this Crispy fried pork with apple sauce and sweet and sour cabbage recipe then browse more Chinese recipes, meat recipes and our most popular hainanese chicken rice recipe.
Chinese Restaurants
Displaying 10 of 815 Chinese Restaurants.
PLEASE NOTE: All submitted comments become the property of SBS. We reserve the right to edit and/or amend submitted comments. HTML tags other than paragraph, line break, bold or italics will be removed from your comment.
Featured Food & Recipes
Hot Tips
More
Vanilla extract
Be careful to choose vanilla extract that is labeled as "pure" as opposed to the synthetic varieties. Vanilla essence is a stronger version of vanilla extract and only a couple of drops are required for a similar result.
Glossary
More
Kadhai
A round bottomed cooking pan similar to a wok. It is a versatile pan used for everything from deep frying, stir frying, steaming and of course curries.