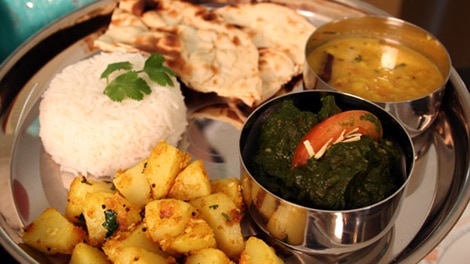 Cuisine:

Indian

Prep Time: 15 min(s)
Cook Time: 1 hr(s) 15 min(s)

Serves 4–6
Dhal is a simple meal of cooked, spiced beans, peas or lentils. It is high in protein and fibre. This version uses toor dal, or yellow split peas, but other varieties include urid, mung and masoor to name just a few. To me this recipe redefines dhal – it is so yummy that you can have it for dinner on its own, although it is perfect served with steamed rice or Indian bread. The fresh tomatoes and coriander give it real fresh-ness and the asafoetida is worth seeking out to counter the gassy effects of the split peas – it is available from most Indian food stores.

Ingredients
250 g - toor dal (yellow split peas), washed and drained
1 tsp - turmeric
1 litre - water
6 - garlic cloves
1 cm - piece of ginger
salt
2 tbsp - vegetable oil
1 tsp - black mustard seeds
2 tsp - cumin seeds
2–3 - dried chillies
8–10 - curry leaves
1–2 tsp - chilli powder
Pinch of asafoetida powder
200 g - chopped tomatoes
coriander leaves
View conversion table
Preparation
Put the toor dal, turmeric and water into a heavy-based saucepan and boil for 45–60 minutes, until the peas are soft when pressed between the thumb and index finger.

Meanwhile, pound the garlic, ginger and a good pinch of salt to a paste in a mortar. Heat the oil in a small frying pan over low heat. Add the mustard seeds and allow them to pop. Add the cumin seeds, dried chillies, curry leaves, chilli powder, asafoetida and ginger and garlic paste and fry until fragrant. Stir into the dhal.

Add the chopped tomatoes and simmer for another 10 minutes. Season to taste with salt and garnish with coriander leaves.

SBS cook's notes
Oven temperatures are for conventional; if using fan-forced (convection), reduce the temperature by 20˚C. | We use Australian tablespoons and cups: 1 teaspoon equals 5 ml; 1 tablespoon equals 20 ml; 1 cup equals 250 ml. | All herbs are fresh (unless specified) and cups are lightly packed. | All vegetables are medium size and peeled, unless specified. | All eggs are 55–60 g, unless specified.

If you enjoyed this Toor dal tadka recipe then browse more Indian recipes, vegetarian recipes, easy recipes and our most popular hainanese chicken rice recipe.
Indian Restaurants
Displaying 10 of 717 Indian Restaurants.
PLEASE NOTE: All submitted comments become the property of SBS. We reserve the right to edit and/or amend submitted comments. HTML tags other than paragraph, line break, bold or italics will be removed from your comment.
Featured Food & Recipes
Hot Tips
More
Peeling and de-seeding tomatoes
To peel and de-seed a tomato, score a small cross in the base of the tomato with your knife; plunge in boiling water for 1 minute, refresh under cold water (running water seems to make peeling easier too); cut in half and scoop out seeds with a dessert spoon.
Glossary
More
Prosciutto
The Italian word for ham, used in the names of raw hams such as prosciutto di Parma. Parma ham is served in very thin slices.