Fortune chicken recipe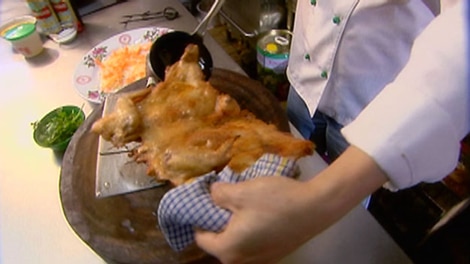 "The Chinese name for this dish means 'rich and lucky'", says Adelaide chef Pang Ming Chui. "I hope the customers who order this dish become rich… and lucky like me!"
Ingredients
1 whole small chicken (approx. 1.5kg)

For the marinade
1 bunch coriander
1 mandarin segment, finely diced
2 small red onions
1 large knob ginger (about 10cm long)
1 tspn salt
¼ tspn MSG (optional)
½ tspn sugar
2 tspn Chinese rice wine
For the maltose water
1 tbsp maltose
500ml hot water
100ml white vinegar
Peanut or vegetable oil for frying
View conversion table
Preparation
De-bone the chicken by making a lengthwise cut, separating the breast meat from the breast bone. Remove the entire rib section by separating the meat from the bone, taking care to leave the skin intact.

Remove the thigh bone, easing the meat away from the bone, leaving approximately 2-3cm of bone on the end of the leg. Leave chicken wings intact.

Laying the de-boned chicken flat, skin-side down, slice breast meat crosswise and spread flat.

Finely chop coriander, red onion and ginger then combine with salt, MSG, sugar, rice wine and diced mandarin to form the marinade.

Spread the marinade evenly on the meat side of the chicken.

Thread a wooden skewer through the breast meat and attach to a piece of wire netting to stretch the chicken. The chicken skin should be taut and wrapped around the outer edges of the wire netting.

Using boiling water, blanch the skin for approximately two minutes.

Dip in the maltose and vinegar water for another two minutes. Hang to dry for 4 - 6 hours.

Cook in Peking duck oven for 15 minutes before deep frying the skin in hot oil until the skin is crisp and golden in colour. Note that the oil should be ladled on to the skin side of the chicken to ensure even cooking and avoid burning.

Cut into pieces, garnish with coriander and serve.
If you enjoyed this Fortune chicken recipe then browse more Chinese recipes, meat recipes, entertaining recipes and our most popular hainanese chicken rice recipe.
Chinese Restaurants
Displaying 10 of 815 Chinese Restaurants.
PLEASE NOTE: All submitted comments become the property of SBS. We reserve the right to edit and/or amend submitted comments. HTML tags other than paragraph, line break, bold or italics will be removed from your comment.
Featured Food & Recipes
Hot Tips
More
Over crowding the deep fryer
Do not over crowd your deep fryer. The fried food must have bubbling hot oil all the way around it for it to cook evenly and quickly. If you put too many ingredients in the deep fryer at once it will reduce the temperature of the oil resulting in a soggy mess.
Glossary
More
Lassi
A traditional Indian drink that used to be made from buttermilk with salt added to combat dehydration in the hot climate. These days it is made from thin yoghurt, with salt or sugar.