Braised potatoes with Maltese sausage recipe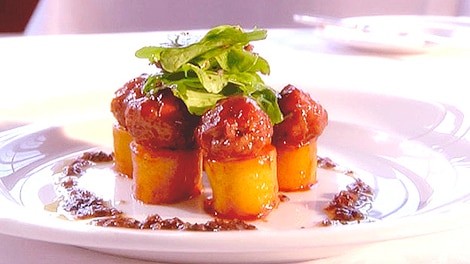 Cuisine:

Maltese

Serves 1
Ingredients
2 large washed Sebago potatoes
200gm Maltese pork sausage*
10gm rocket leaves
1 l reduced chicken stock
200mls sherry vinegar
100mls port
100mls white wine
4 sprigs of thyme
1 bay leaf
10 white peppercorns
1 head of garlic, cut in half
5 sliced shallots

For the vinaigrette
10 diced shallots
2 sprigs of thyme
Half a head garlic
1 bay leaf
100mls port
100mls brandy
200mls sherry vinegar
100mls olive oil
20mls truffle oil
1 tbsn truffle paste
*available from Maltese butchers but can be substituted with any "continental" sausage
View conversion table
Preparation
Braising liquor
Heat a pan and sweat down the shallots, garlic, thyme, peppercorns and bay leaf in a little olive oil.

De-glaze with the vinegar, reduce until dry.

Add all the alcohol and reduce by half.

Add the stock and slowly reduce by half, skimming regularly.

Cut the potatoes in half.

Place in a pot of cold salted water and cook halfway. Allow to cool.

Place a portion of sausage meat on each half and place in a suitable sized pot and cover with the hot braising liquor, leaving the sausage uncovered.

Place in a pre heated oven (180c) and cook for 15 minutes, basting every 5 minutes.


Vinaigrette
Saute half the shallots with the garlic, bay leaf and thyme, in olive oil.

Add all the alcohol and reduce by three-quarters.

Add the vinegar and reduce by half.

Add the remaining shallots, remove the garlic, thyme and bay leaf and allow to cool.

Once cooled, add the remaining ingredients and serve.
If you enjoyed this Braised potatoes with Maltese sausage recipe then browse more Maltese recipes, meat recipes, recipes for 1 or 2 recipes and our most popular hainanese chicken rice recipe.
Maltese Restaurants
Displaying 4 of 4 Maltese Restaurants.
PLEASE NOTE: All submitted comments become the property of SBS. We reserve the right to edit and/or amend submitted comments. HTML tags other than paragraph, line break, bold or italics will be removed from your comment.
Featured Food & Recipes
Hot Tips
More
Serving rice
To serve coconut rice Malaysian style, scoop individual servings into a small soup bowl to mould rice before upending it onto plates.
Glossary
More
Bouillabaisse
A fish soup or stew made of several kinds of fish and shellfish cooked together in a tall pot with olive oil, flavour builders, water and sometimes white wine. Traditionally associated with the Provence region of France, especially Marseilles.