Chilled cucumber soup recipe
Created by
Suzanne Gibbs and Adelaide Lucas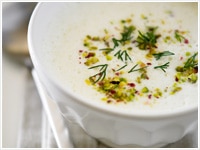 Photography: Brett Stevens
Cuisine:

Modern Australian

Servings:

Serves 4

Cooking Time:

Less than 15 minutes

Course:

Main
Ingredients
500g Lebanese cucumbers, peeled and grated
1 garlic clove, crushed
1 teaspoon cumin
2 cups low-fat natural yogurt
½ cup (125ml) chicken stock
¼ cup chopped pistachios and snipped dill, to serve
View conversion table
Preparation
Place cucumber, garlic, cumin and natural yogurt in a food processor. Process until smooth. Stir in chicken stock, adding more if soup is too thick. Season to taste. Chill.

Serve topped with pistachios and dill.


If you enjoyed this Chilled cucumber soup recipe then browse more Modern Australian recipes, egg-free recipes, low-carb recipes and our most popular hainanese chicken rice recipe.
Modern Australian Restaurants
Displaying 10 of 601 Modern Australian Restaurants.
PLEASE NOTE: All submitted comments become the property of SBS. We reserve the right to edit and/or amend submitted comments. HTML tags other than paragraph, line break, bold or italics will be removed from your comment.
Featured Food & Recipes
Hot Tips
More
Sealing meat
Sealing meat does not actually help to keep the juices inside the meat, it does however add a great charred flavour and colour to the meat. Sear cuts of meat in a hot frying pan or roasting dish over medium to high heat.
Glossary
More
Radicchio
A crisp variety of chicory with a bitter, peppery taste. Radicchio has small hearts, red with white veins, and is generally used in salads mixed with other salad leaves.