New vegetable soup recipe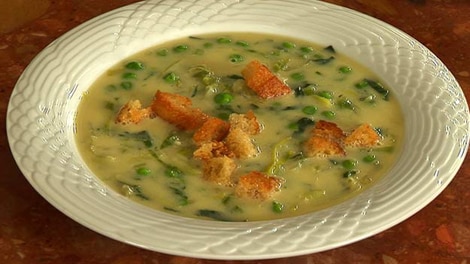 Cuisine:

French

Serves 4-6
This soup is very popular in the countryside around the Paris region where many vegetables for the Parisian market are grown.
Ingredients
2 medium leeks
At least 1 cup celery leaves or 2 stalks of celery
1/2 cos lettuce
1 1/2 litres chicken broth or chicken stock
1 cup shelled peas
2 tbsp oil
1 tbsp butter
2 slices of bread, cut into 2 cm cubes
4 egg yolks
Salt and freshly ground black pepper
View conversion table
Preparation
Trim and wash leeks and cut them into julienne about 5 cm long.

Shred celery leaves. Wash lettuce and shred the leaves

Bring chicken broth to the boil. Add leek julienne, celery leaves, cos lettuce and peas and cook on a low boil for about 15 minutes or until the vegetables are soft.

Meanwhile, heat oil and butter in a frying pan and fry bread cubes until lightly browned.

Place egg yolks in a bowl and whisk them whilst slowly adding about 1 cup of hot liquid from the soup. Season with salt and pepper.

Pour the egg mixture into the soup (away from the heat) and season soup to taste. Pour soup into deep soup bowls and serve croutons separately.
If you enjoyed this New vegetable soup recipe then browse more French recipes, soup recipes, paris recipes and our most popular hainanese chicken rice recipe.
French Restaurants
Displaying 10 of 470 French Restaurants.
PLEASE NOTE: All submitted comments become the property of SBS. We reserve the right to edit and/or amend submitted comments. HTML tags other than paragraph, line break, bold or italics will be removed from your comment.
Featured Food & Recipes
Hot Tips
More
Cooking a mire poix
A common base for stews, soups and casseroles a French mire poix is generally made up of two parts onion, two parts carrot and one part celery. The ingredients are cooked gently in olive oil or butter before the other ingredients are added.
Glossary
More
Formaggio
Formaggio (cheese) falls into two main categories sweet (dolce) or with bite (picante).