Tobie Puttock's spaghetti aglio olio, pangrattato and peperoncino recipe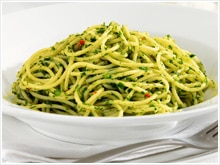 Cuisine:

Italian

Servings:

Serves 4

Cooking Time:

Less than 30 minutes

Course:

Main
"This is my 'nothing in the fridge' favourite. You can have it on the table in 15 minutes. I used to cook it all the time for my mates when we were on a budget on our snowboarding trips."
Ingredients
400g spaghetti
4-6 tbsp extra virgin olive oil
3-6 garlic cloves, peeled and finely chopped
1-2 red chillies, deseeded and finely chopped
3 anchovies
1 bunch parsley, washed, stalks finely chopped, leaves roughly chopped
Small handful homemade breadcrumbs (optional)
Freshly grated parmesan cheese
Sea salt and freshly ground pepper
View conversion table
Preparation
Bring a large pot of salted water to the boil and plunge the spaghetti into it.

While the spaghetti is cooking add the extra virgin olive oil to a pan along with the garlic, chilli, anchovy and the parsley stalk. Very gently warm over a low heat to infuse the flavours of the garlic, chilli and anchovy into the oil being careful not to brown the garlic or overheat the oil. This should only take a couple of minutes. Remove the pan from the heat.

When the spaghetti is cooked al dente, drain off the water and add the pasta to the pan along with the chopped parsley, bread crumbs and a small handful of parmesan.

Season to taste. Toss the spaghetti in the pan so the pasta is coated with all the ingredients and serve immediately.

If you enjoyed this Tobie Puttock's spaghetti aglio olio, pangrattato and peperoncino recipe then browse more Italian recipes, nut-free recipes, egg-free recipes and our most popular hainanese chicken rice recipe.
Italian Restaurants
Displaying 10 of 2165 Italian Restaurants.
PLEASE NOTE: All submitted comments become the property of SBS. We reserve the right to edit and/or amend submitted comments. HTML tags other than paragraph, line break, bold or italics will be removed from your comment.
Featured Food & Recipes
Hot Tips
More
Hamburgers
Be careful not to over-handle hamburger patties when you are moulding them. The more you touch them the more compact the meat will become. This will result in a tough, dense hamburger.
Glossary
More
Mirin
A pale amber coloured cooking wine used for a hint of sweetness and as a glaze for grilled dishes.