Rabbit stew with prunes recipe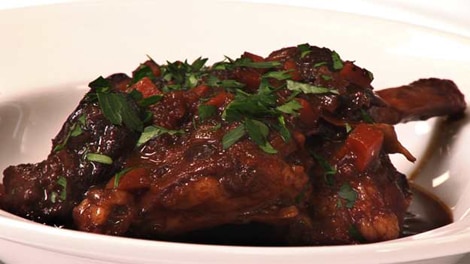 Ingredients
1 rabbit, about 1.5 kg
1/2 bottle good red wine
1 tbsp honey
1 cinnamon stick
1 star anise
About 18 prunes
Salt and freshly ground black pepper
1 tbsp oil
20 g butter
1 small brown onion, diced
1 small carrot, diced
3 sprigs of thyme
1 slice spice bread (pain d'épice)
3 tbsp chopped parsley
View conversion table
Preparation
Preheat oven to 150°C.

Cut rabbit into 6-8 pieces.

Place prunes in a bowl. Place wine in a saucepan with the honey, cinnamon stick and star anis. Bring to the boil then pour over the prunes.

Season rabbit pieces with salt and pepper.

Heat a little oil and half the butter in an oven-proof pan and brown rabbit pieces all over.

Remove fat from pan and add remaining butter, diced onion and carrot and stir well. Cover with a lid and cook for a few minutes.

To the pan add soaked prunes with the wine and spices and the sprigs of thyme. Add the spice bread (it will thicken the sauce during the cooking). Cover pan and cook in preheated oven for about 2 hours, stirring a couple of times during the cooking.

Once cooked, the rabbit meat must come easily off the bone. Sprinkle rabbit with chopped parsley and serve.
If you enjoyed this Rabbit stew with prunes recipe then browse more French recipes, stew recipes, fruit recipes and our most popular hainanese chicken rice recipe.
French Restaurants
Displaying 10 of 470 French Restaurants.
PLEASE NOTE: All submitted comments become the property of SBS. We reserve the right to edit and/or amend submitted comments. HTML tags other than paragraph, line break, bold or italics will be removed from your comment.
Featured Food & Recipes
Hot Tips
More
Chopping an onion
Cut the onion it in half across the base (leaving a portion of root on each half - this will help keep the onion together while slicing), peel the onion and place cut side down. Make multiple cuts long ways from top to bottom but not through the root at the end. The more cuts, the finer the dice.
Glossary
More
Escalope
Thin slice of meat, often beaten thinner for quick cooking. One method used to prepare veal escalopes is to coat them with breadcrumbs.