Crayfish a la Parisienne recipe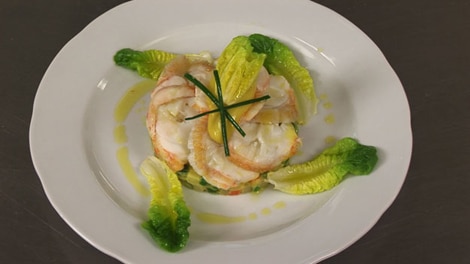 To present this dish Philippe used some PVC rings about 10 cm diameter.
Ingredients
3 tbsp diced turnips
3 tbsp diced carrots
3 tbsp diced beans
3 tbsp diced potatoes
2 tbsp shelled peas
Salt
1 egg yolk
2 tbsp mustard
2 tsp vinegar
Freshly ground black pepper
About 100 ml olive oil
1 cooked crayfish tail, about 400 g
A few cos lettuce leaves
A little extra olive oil for drizzling
A few chives for garnishing
View conversion table
Preparation
Cook turnips, carrots, beans, potatoes and peas separately (one after the other) in salted boiling water then drain. Place on a towel to absorb the excess water.

In a bowl, mix egg yolk with mustard, a little salt and the vinegar, then bit by bit pour in the olive oil, whisking continuously until you obtain a thick mayonnaise.

Place cooked diced vegetables and peas in a bowl and mix with about half the mayonnaise.

Cut crayfish tail into 1 cm slices.

Place 3 PVC rings in the centre of 3 plates. Spoon a third of the vegetable mix into the rings and flatten the vegetables with a spoon. Top with crayfish slices and garnish with a few lettuce leaves and 1 tsp mayonnaise per serve.

Drizzle a little olive oil over the crayfish, top with a few chives and serve.
If you enjoyed this Crayfish a la Parisienne recipe then browse more French recipes, seafood recipes and our most popular hainanese chicken rice recipe.
French Restaurants
Displaying 10 of 470 French Restaurants.
PLEASE NOTE: All submitted comments become the property of SBS. We reserve the right to edit and/or amend submitted comments. HTML tags other than paragraph, line break, bold or italics will be removed from your comment.
Featured Food & Recipes
Hot Tips
More
Chillies
To keep the flavour but avoid heat, keep the chilli whole or remove seeds. Break dried chillies in half for more heat in cooking.
Glossary
More
Lemongrass
A main ingredient in Thai and Southeast Asian cuisines, lemon grass is a root that can be used fresh, dried or powdered to impart its lemon flavour to sweet or savoury dishes.