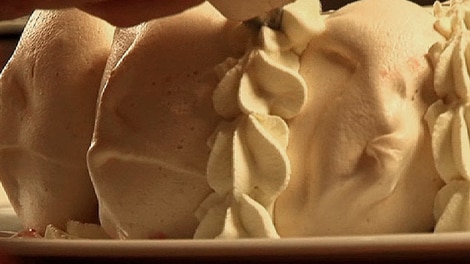 Ingredients
3 egg whites (size 61g)
A pinch of cream of tartar
120 g caster sugar
50 g pure icing sugar, sifted
View conversion table
Preparation
Line a flat oven tray with baking paper.

Preheat oven to 140°C.

Whisk egg whites and cream of tartar until whites begin to stiffen. Gradually add half of the sugar and beat until the whites are shiny and becoming firmer, then beat in icing sugar and remaining sugar. The meringue is now ready to be shaped.

Using a soup spoon, gently scoop about 12 meringues onto the baking paper, leaving a little space in between each one. Don't worry if the meringue shapes are not perfect and avoid fiddling with them.

Place the tray in the preheated oven and cook meringues for 20 minutes.

Reduce temperature to 100°C and cook for a further 60 minutes.

Turn oven off and allow meringues to dry further in the oven for 1 hour or more before storing them in an airtight container.
If you enjoyed this Meringue recipe then browse more French recipes, dessert recipes and our most popular hainanese chicken rice recipe.
French Restaurants
Displaying 10 of 470 French Restaurants.
PLEASE NOTE: All submitted comments become the property of SBS. We reserve the right to edit and/or amend submitted comments. HTML tags other than paragraph, line break, bold or italics will be removed from your comment.
Featured Food & Recipes
Hot Tips
More
Choosing Brussels sprouts
Choose the smallest Brussels sprouts available, with tight, firm heads. Avoid yellow leaves.
Glossary
More
Harissa
North African hot paste, usually served with couscous, is a fiery mixture of chillies, garlic, cumin, coriander, mint and oil.