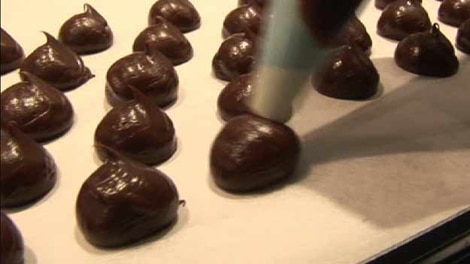 Cuisine:

French

Makes 30-40
The making of these delicious chocolates is spread over 2 days.
Ingredients
250 ml cream
60 g butter, cubed
1/2 vanilla pod, cut open
500 g dark chocolate (couverture), cut into small pieces
An extra 300 g dark chocolate (couverture), cut into small pieces
About 200 g pure cocoa
View conversion table
Preparation
Place cream and butter in a saucepan.

Using the tip of a knife blade, scrape out the vanilla pod seeds. Add seeds and vanilla pod to the saucepan. Bring cream to the boil then remove vanilla pod.

Place 500 g chocolate pieces in a large bowl. Pour the hot cream onto the chocolate and whisk until chocolate has melted and is smooth. Wipe the sides of the bowl, cover with plastic film and keep in a cool place overnight (not necessarily in the fridge).

Prepare a piping bag with a 1 cm nozzle. Briefly stir the chocolate preparation (ganache) then fill the piping bag. Pipe small mounds of ganache every few centimetres on a tray lined with baking paper. Refrigerate for a couple of hours until set.

Melt the extra 300 g chocolate in the microwave. Do it on high for 30 seconds, then do 10 seconds at a time, stirring each time in between until chocolate has melted and is smooth. Don't overdo it.

Loosen truffles from tray.

Wearing a glove, lightly coat each truffle with melted chocolate. Now, roll them in the cocoa. Place truffles on a rack to set.

They're best eaten fresh, but will keep a few days in a biscuit tin in a cool place.
If you enjoyed this Belgian truffles recipe then browse more French recipes, dessert recipes, chocolate recipes, valentine's day recipes and our most popular hainanese chicken rice recipe.
French Restaurants
Displaying 10 of 470 French Restaurants.
PLEASE NOTE: All submitted comments become the property of SBS. We reserve the right to edit and/or amend submitted comments. HTML tags other than paragraph, line break, bold or italics will be removed from your comment.
Featured Food & Recipes
Hot Tips
More
Crackling idea
If your pork crackling fails to rise to the occasion, once the pork roast is cooked, remove the crackling in one large piece and place on a wire rack placed over an oven tray. Place in a very hot oven or under a hot grill until done to your liking. A domestic blow torch can also come in handy when the crackling needs a helping hand. Once the pork is cooked, gently brown and crisp the crackling with the torch.
Glossary
More
Quinoa
A South American grain that is becoming popular in health food stores and can be used like barley or other grains.