Shanghai-style stir-fry eggplant with garlic and soy sauce recipe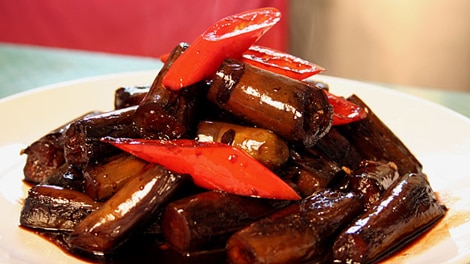 Cuisine:

Chinese

Prep Time: 5 min(s)
Cook Time: 15 min(s)

Serves 4 as a side dish
I am a big lover of eggplant. I have been cooking it in so many ways over the years, and still love it. I am never sick of it. This is a very simple and a traditional Shanghai home-cooked dish. Every family in Shanghai has their own way to cook it and uses the exact same ingredients. The woman in Shanghai who is the best cook for this dish is very special. She is my mum. So I believe the best seasoning in the world is memories.
You might also enjoy Thai-style chicken stir-fry, often served at breakfast topped with a deep-fried egg, sunny-side up. For a family friendly meal, try our Mongolian lamb stir-fry recipe, which uses lamb backstrap, shallots and baby spinach. Otherwise, browse our collection of stir-fry recipes.
Ingredients
500 g - Japanese eggplant (also known as Lebanese)
100 ml - oil
1 - long red chilli, roughly cut into chunks
2 - garlic cloves, bruised
200 ml - water
3 tbsp - dark soy sauce
1 tbsp - sugar
View conversion table
Preparation
Cut or snap the eggplants into 5 cm pieces. Heat the oil in a wok until shimmering. Add the chilli and garlic and cook for 20–30 seconds. Remove the chilli and reserve.

Add the eggplant and gently stir-fry. When the eggplant has soaked up all of the oil, add 1 tablespoon of the water. Keep adding water a tablespoon at a time until the eggplant is soft and you have used around half of the water.

Stir in the dark soy sauce and sugar then add the remaining water. Cover with a lid and cook for 1 minute. Remove the lid; the liquid should be absorbed. Return the chilli to the wok, toss for 30 seconds and serve.

SBS cook's notes
Oven temperatures are for conventional; if using fan-forced (convection), reduce the temperature by 20˚C. | We use Australian tablespoons and cups: 1 teaspoon equals 5 ml; 1 tablespoon equals 20 ml; 1 cup equals 250 ml. | All herbs are fresh (unless specified) and cups are lightly packed. | All vegetables are medium size and peeled, unless specified. | All eggs are 55–60 g, unless specified.
If you enjoyed this Shanghai-style stir-fry eggplant with garlic and soy sauce recipe then browse more Chinese recipes, stir-fry recipes, vegetarian recipes, easy recipes and our most popular hainanese chicken rice recipe.
Chinese Restaurants
Displaying 10 of 815 Chinese Restaurants.
PLEASE NOTE: All submitted comments become the property of SBS. We reserve the right to edit and/or amend submitted comments. HTML tags other than paragraph, line break, bold or italics will be removed from your comment.
Featured Food & Recipes
Hot Tips
More
Sharpening a knife
The most common angle to sharpen your knife is 20°. However, you should check with the manufacturer of the knife if you wish to determine the exact angle of your knife.
Glossary
More
Coconut Oil
A fragrant cooking oil to be used sparingly due to its high saturated fat content.