Salt and pepper squid recipe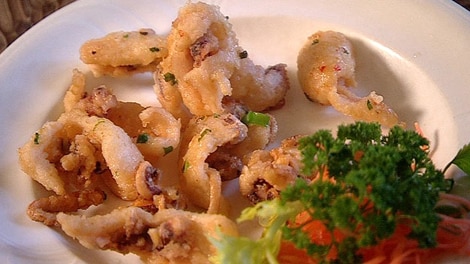 Cuisine:

Chinese

Serves 4
Ying Tam, chef of Sydney's Ying's Seafood Restaurant graciously shares his signature salt and pepper squid recipe with Food Safari's Maeve O'Meara. It makes more five-spice mix than you need but you can store the rest in an airtight container for another day.

If you enjoyed this dish, take a look at our other culturally diverse squid recipes.

Ingredients
Five-spice mix
1 tbsp ground ginger
1 tbsp celery powder
1 tbsp chicken stock powder
1 tbsp salt
1 tsp five-spice powder
Squid
500 g fresh whole squid
2 tbsp self-raising flour
vegetable oil
cornflour
4 spring onions, chopped
2 garlic cloves, chopped
1 red chilli, chopped
½ tbsp rice wine
View conversion table
Preparation
Combine the ingredients for the five-spice mix and set aside.

Clean the squid by pulling the tentacles from the body. Wash out the tube and remove the clear 'backbone'. Peel off the skin if desired. Cut the tentacles from the head and discard the head. Cut the tube into triangles, which helps the squid to curl during cooking.

In a bowl, mix the self-raising flour with 1 tablespoon of vegetable oil and a little water to make a paste. Add the squid pieces and tentacles and coat well. Sprinkle and toss with enough cornflour until the pieces are dry.

Heat enough vegetable oil in a wok for deep-frying. Add the squid in batches and cook until golden and crisp. Remove with a wire basket or slotted spoon. When all the squid is cooked, drain most of the oil from the wok.

Add the spring onions, garlic and chilli to the wok. Stir-fry for 30 seconds until aromatic. Return the squid to the wok, add 2–3 teaspoons of five-spice mix and toss well. Add the rice wine, toss and serve immediately.



SBS cook's notes


Oven temperatures are for conventional; if using fan-forced (convection), reduce the temperature by 20˚C. | We use Australian tablespoons and cups: 1 teaspoon equals 5 ml; 1 tablespoon equals 20 ml; 1 cup equals 250 ml. | All herbs are fresh (unless specified) and cups are lightly packed. | All vegetables are medium size and peeled, unless specified. | All eggs are 55–60 g, unless specified.



If you enjoyed this Salt and pepper squid recipe then browse more Chinese recipes, seafood recipes and our most popular hainanese chicken rice recipe.
Chinese Restaurants
Displaying 10 of 815 Chinese Restaurants.
PLEASE NOTE: All submitted comments become the property of SBS. We reserve the right to edit and/or amend submitted comments. HTML tags other than paragraph, line break, bold or italics will be removed from your comment.
Featured Food & Recipes
Hot Tips
More
Couscous
Always fluff couscous with a fork, rather than a spoon, as this will keep the grains light and fluffy rather than stodgy.
Glossary
More
Habanero Chillies
Habanero (fresh) is a super super hot variety of chilli.