Chicken cooked in Riesling recipe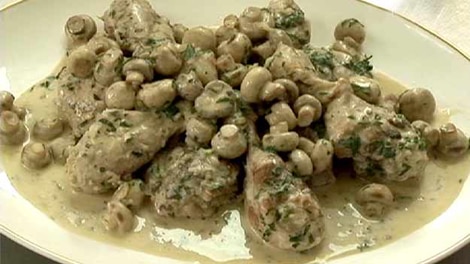 Ingredients
About 12 parsley stalks
1 bay leaf
2 sprigs of thyme
4 chicken drumsticks (skin on or off)
4 chicken thighs (skin on or off)
Salt and freshly ground black pepper
1 tbsp oil
20 g butter
2 shallots, chopped
30 ml cognac (or brandy)
200 ml Alsace Riesling
A little grated nutmeg (optional)
300 g baby mushrooms
Juice of 1/2 lemon
100 ml cream
2 egg yolks
3 tbsp chopped parsley
View conversion table
Preparation
Using kitchen string, tie together the parsley stalks, bay leaf and thyme to make a bouquet garni. Put aside.

Season chicken pieces with salt and pepper, then brown chicken on medium heat in a little oil and half the butter for 2-3 minutes. Add shallots, shake the pan and cook for 2 minutes. Add cognac, stir well, then light the cognac. When the flame dies down, add the wine, nutmeg and bouquet garni. Bring to a simmer, cover and cook for about 25 minutes.

Meanwhile, sauté mushrooms in a pan in remaining butter. Add mushrooms to chicken and simmer for 3 minutes. Stir in lemon juice.

In a bowl, mix cream with egg yolks. While whisking continuously, pour the cooking liquid from the chicken into the cream and egg preparation. Then pour the cream sauce back into the chicken and mushrooms.

Keep on low heat for a few minutes (it must not boil), while gently stirring all the ingredients together.

Add chopped parsley, remove bouquet garni and serve.
If you enjoyed this Chicken cooked in Riesling recipe then browse more French recipes, meat recipes and our most popular hainanese chicken rice recipe.
French Restaurants
Displaying 10 of 470 French Restaurants.
PLEASE NOTE: All submitted comments become the property of SBS. We reserve the right to edit and/or amend submitted comments. HTML tags other than paragraph, line break, bold or italics will be removed from your comment.
Featured Food & Recipes
Hot Tips
More
Fresh vs dry pasta
Similarly to pasta shapes, the choice between fresh and dry pasta is more about matching flavours and textures than about which is superior. Fresh pasta is well suited to delicate sauces, but its primary purpose is to make tortellini, ravioli and lasagne sheets.
Glossary
More
Moussaka
A dish from Greece, Turkey and the Balkans, made of layers of lamb, slices of aubergine, potatoes and onions and covered with white sauce and cheese.