Italian fish and fennel soup recipe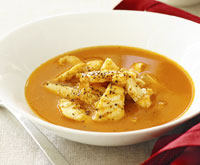 Photography: Stuart Scott
Cuisine:

Modern Australian

Servings:

Serves 4

Cooking Time:

Less than 60 minutes

Course:

Entree, Lunch, Side dish
Italian fish and fennel soup
Ingredients
1 tablespoon olive oil
1 onion, chopped
1 fennel bulb, chopped
2 garlic cloves, crushed
1½ cups (375ml) fish stock
1 cup (250ml) passata
1 bay leaf
200g barramundi fillet, skin and bones removed, cut into strips
200g john dory fillet, skin and bones removed, cut into strips
toasted Italian-style bread, to serve
View conversion table
Preparation
1. Heat oil in a large saucepan on medium. Pan-fry onion, fennel and garlic for 4 minutes, until soft. Add fish stock, 1½ cups water, passata and bay leaf. Bring to boil. Simmer (covered) for 15 minutes.

2. Remove bay leaf. Using a hand blender, blend tomato mixture until smooth. Strain through a sieve and return to saucepan.

3. Return to medium heat and season with salt to taste. Add fish and simmer for 2-3 minutes, until fish is cooked. Serve with a grinding of pepper and toast.





If you enjoyed this Italian fish and fennel soup recipe then browse more Modern Australian recipes, child-friendly recipes, low-fat recipes, low-carb recipes, heart-friendly recipes and our most popular hainanese chicken rice recipe.
Modern Australian Restaurants
Displaying 10 of 601 Modern Australian Restaurants.
PLEASE NOTE: All submitted comments become the property of SBS. We reserve the right to edit and/or amend submitted comments. HTML tags other than paragraph, line break, bold or italics will be removed from your comment.
Featured Food & Recipes
Hot Tips
More
Porridge with salt
Porridge in Scotland is cooked slowly and gently to create a thick consistency. The Scots would never dream of sweetening their porridge, instead choosing to flavour it with salt.
Glossary
More
Parboil
To boil vegetables until half cooked. Used to part-cook potatoes and other hard root vegetables prior to roasting them at a high temperature to ensure that the inside is cooked while the outside crisps up well.