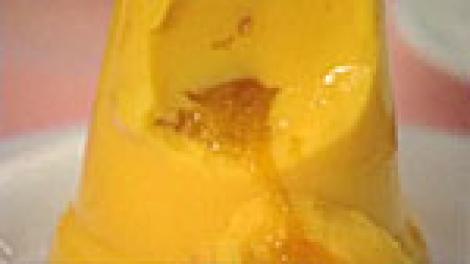 Cuisine:

Chinese

Prep Time: 15 min(s)

Serves 6–8
This creamy mango pudding is so yummy that one is never enough! Prepare it ahead quickly and easily, pop it in the freezer for a couple of hours and you've got a sweet and sensational dessert everyone will love.

Ingredients
1 ½ tbsp powdered gelatine
165 g (¾ cup) caster sugar
250 ml boiling water
1 litre mango ice cream, softened
75 ml evaporated milk
1 cup crushed ice
1 large mango, flesh diced
View conversion table
Preparation
Freezing time: 2 hours

Stir the gelatine and sugar into the boiling water until thick and syrupy. Pour into a bowl. Stir in the ice cream, evaporated milk, crushed ice and diced mango. Ladle into serving bowls or glasses and refrigerate for about 2 hours until set.

SBS cook's notes
Oven temperatures are for conventional; if using fan-forced (convection), reduce the temperature by 20˚C. | We use Australian tablespoons and cups: 1 teaspoon equals 5 ml; 1 tablespoon equals 20 ml; 1 cup equals 250 ml. | All herbs are fresh (unless specified) and cups are lightly packed. | All vegetables are medium size and peeled, unless specified. | All eggs are 55–60 g, unless specified.

If you enjoyed this Mango pudding recipe then browse more Chinese recipes, dessert recipes, fruit recipes and our most popular hainanese chicken rice recipe.
Chinese Restaurants
Displaying 10 of 815 Chinese Restaurants.
Comments (11)
Previous
Page 1
|
2
Next
PLEASE NOTE: All submitted comments become the property of SBS. We reserve the right to edit and/or amend submitted comments. HTML tags other than paragraph, line break, bold or italics will be removed from your comment.
Featured Food & Recipes
Hot Tips
More
Pickling
Pickling is a common preservation technique. Start by gently boiling a brine of water, vinegar and salt. Pour this into a sterilised jar with preferred vegetables, such as cucumbers. For an extra kick, add garlic, horseradish and whole dill stems. Seal the jar and leave for several weeks to ferment.
Glossary
More
Blackstrap Molasses
Unrefined molasses; characterized by an especially strong taste and greater nutrient value.