Italian vegetable soup recipe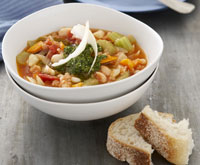 Photography: Andrew Lehmann
Cuisine:

Modern Australian

Servings:

Serves 4

Cooking Time:

Less than 30 minutes

Course:

Entree, Lunch
Ingredients
1 fennel bulb, halved, sliced
1 carrot, chopped
2 celery stalks, chopped
400g can diced tomatoes
2 cups (500ml) reduced-salt vegetable or chicken stock
400g can cannellini beans or chickpeas, drained, rinsed
1 cup (70g) fresh breadcrumbs
pesto, shaved parmesan, crusty bread, to serve
View conversion table
Preparation
1. Heat a lightly oiled saucepan on medium. Cook fennel, carrot and celery for 5 minutes, until golden and softened. Stir in tomato, stock and beans with 2 cups water. Bring to boil. Simmer for 10 minutes, until vegetables are soft.

2. Stir through breadcrumbs and ladle into serving bowls. Top with a dollop of pesto and shaved parmesan. Serve with crusty bread.



If you enjoyed this Italian vegetable soup recipe then browse more Modern Australian recipes, egg-free recipes, low-fat recipes, low-carb recipes, low-cholesterol recipes, low-gi recipes, heart-friendly recipes, vegetarian recipes and our most popular hainanese chicken rice recipe.
Modern Australian Restaurants
Displaying 10 of 601 Modern Australian Restaurants.
PLEASE NOTE: All submitted comments become the property of SBS. We reserve the right to edit and/or amend submitted comments. HTML tags other than paragraph, line break, bold or italics will be removed from your comment.
Featured Food & Recipes
Hot Tips
More
Cooking with coconut milk or cream
It's better not to bring coconut milk or cream back to the boil after adding it to a dish as it will curdle.
Glossary
More
Light Soy Sauce
The result of the first stage of production. Soy beans are fermented for approx forty days. It is pleasantly salty and this is its main contribution to many dishes. Use in stir-fries, marinades and as a dipping sauce.