Pressed olives recipe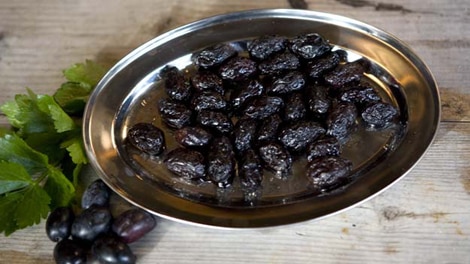 Ingredients
10 kg ripe black olives (preferably kalamata)
1 kg sea salt
1 kg table salt
Olive oil
Fresh oregano or thyme
A 10kg weight (e.g., 3-4 bricks)
View conversion table
Preparation
Place olives in the middle of a large piece of hessian or shade cloth.

Pour sea salt and table salt over olives and mix thoroughly.

Wrap olives with the material and place a weight on top. (The weight helps squash the olives and drain the juice out.)

Over the next two weeks, check every two days and remix, making sure all the olives are covered with salt.

After two weeks, remove the olives from the cloth and wash thoroughly to remove all the salt.

Place the olives in a clean jar and fill it with olive oil.

Add a piece of fresh oregano, thyme or your choice of herb, seal and store.
Your pressed olives are ready to eat whenever you like.
If you enjoyed this Pressed olives recipe then browse more Greek recipes, side dish recipes and our most popular hainanese chicken rice recipe.
Greek Restaurants
Displaying 10 of 236 Greek Restaurants.
PLEASE NOTE: All submitted comments become the property of SBS. We reserve the right to edit and/or amend submitted comments. HTML tags other than paragraph, line break, bold or italics will be removed from your comment.
Featured Food & Recipes
Hot Tips
More
Flouring a cake tin
Try to use the same sort of fat as is used for the cake mixture. Smear the fat evenly all over the inside of the tin (making sure you get into the corners) using a piece of absorbent kitchen paper.
Glossary
More
Yam or Bean Sargot or Bung Kwong
A pale brown tuber, yam bean has a white, crisp and slightly sweet flesh that is used most notably in popiah, a type of spring roll or finely sliced in rojak. (Also known as jicama).