Saganaki cheese recipe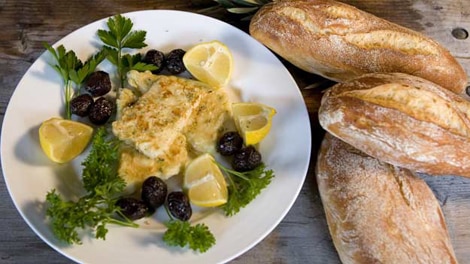 Learn how to make Saganaki Cheese.
Ingredients
500gm Saganaki cheese (cut in triangles)
2 egg whites
1 cup water
1 cup plain flour
2 tbsp olive oil
View conversion table
Preparation
Combine egg whites and water in a bowl and mix lightly.

Dip slices of saganaki cheese into the egg-white mix and dust with plain flour. Repeat.

Heat olive oil in a frying pan.

Place the cheese slices into the hot oil and turn them over intermittently.

Add more olive oil if the cheese starts to stick to the frying pan.

Cook until the cheese goes a little bit soft and turns golden-brown.


Note:
Saganaki cheese is best eaten while hot. Serve with lemon wedges, oregano and parsley.
If you enjoyed this Saganaki cheese recipe then browse more Greek recipes, side dish recipes, cheese and dairy recipes and our most popular hainanese chicken rice recipe.
Greek Restaurants
Displaying 10 of 236 Greek Restaurants.
PLEASE NOTE: All submitted comments become the property of SBS. We reserve the right to edit and/or amend submitted comments. HTML tags other than paragraph, line break, bold or italics will be removed from your comment.
Featured Food & Recipes
Hot Tips
More
Rosella champagne
A native rosella flower (now commonly sold in jars) can be slotted inside a champagne glass, and then the champagne is poured over the top. This uniquely Australian addition not only looks great, but the sweet syrup enhances the flavour of the beverage.
Glossary
More
Gai Lan
Gai Lais also is also known as Chinese broccoli and has thick mid-green stems. A very popular vegetable dish in Chinese restaurants, simply steamed and served with oyster sauce.