Asparagus and goat cheese tart recipe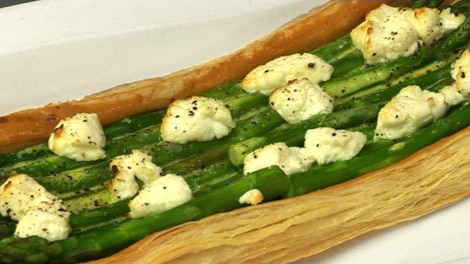 Today French chef, Gabriel Gaté, asks cheese guru, Will Studd, about some of the best French goat cheese. Master chef, Philippe Mouchel, prepares an asparagus tart with goat cheese, and sommelier, Christian Maier, describes the beautiful Quincy wine of the Loire Valley.


Ingredients
400g rolled puff pastry
1 egg yolk, diluted with 1 tsp water
16 thin green asparagus spears
1 egg yolk mixed with 2 tbsp cream
Salt and freshly ground pepper
80g fresh goat cheese
View conversion table
Preparation
Preheat oven to 170°C.

Cut the pastry into a rectangle about 10 x 30 cm. Using the blade of a knife, lightly mark a 1 cm border on the long side of the rectangle. Place a weight in the centre of the pastry (use baking paper with rice or small pastry weights) to stop the pastry from rising during the cooking. (Philippe Mouchel uses a special piece of wood wrapped in foil).

Brush the pastry edges with a little diluted egg yolk then bake in preheated oven for about 15-20 minutes or until the edges have risen and are golden brown.

Trim the asparagus, then cook in salted boiling water for 2-3 minutes before draining.

Remove the weight from the pastry. Brush the centre of the pastry with a little egg yolk and cream mixture and season with salt and pepper. Top neatly with the cooked asparagus and spoon remaining egg yolk and cream on top. Dot with small pieces of goat cheese and season with salt and pepper.

Bake in the oven until the cheese is warm and lightly browned. Cut in half before serving. Bon appétit!
If you enjoyed this Asparagus and goat cheese tart recipe then browse more French recipes, pizza, pie and tart recipes, vegetarian recipes, cheese and dairy recipes, baking recipes, recipes for 1 or 2 recipes and our most popular hainanese chicken rice recipe.
French Restaurants
Displaying 10 of 470 French Restaurants.
PLEASE NOTE: All submitted comments become the property of SBS. We reserve the right to edit and/or amend submitted comments. HTML tags other than paragraph, line break, bold or italics will be removed from your comment.
Featured Food & Recipes
Hot Tips
More
Toasting spices
Toasting whole spices in a dry pan can help to bring out the essential oils and the flavour in the spice, however be careful to taste as you add the spice to your dish as the flavour will have changed and you may need less. Toasting pre-ground spices is a little trickier and it can ruin the flavour of the spice altogether.
Glossary
More
Coconut Oil
A fragrant cooking oil to be used sparingly due to its high saturated fat content.