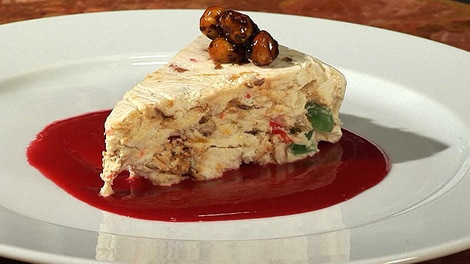 Cuisine:

French

Serves 8-10
Today Le Tour crosses one of French chef, Gabriel Gaté's, favourite regions of the north of Provence and he talks about the local specialities. He prepares a classic nougat ice-cream with hazelnuts, and sommelier, Christian Maier, tells us about the rosé wines of Provence.


Ingredients
1 tbsp water
40 g caster sugar
120 g roasted hazelnuts, skinless
60 g honey
Extra 30 g caster sugar
30 g liquid glucose
3 egg whites
A pinch of cream of tartar
150 g glacé apricots, cut into 1 cm squares
30 g glacé cherries, cut into 5 mm squares
300 ml whipped cream
A batch of Raspberry Sauce
View conversion table
Preparation
In a small saucepan place 1 tbsp water with 40 g caster sugar and cook on medium heat until it caramelises. Add hazelnuts and stir for 2 minutes. Very carefully transfer the preparation to a piece of oiled baking paper and spread it out. When cold, cut three-quarters of the caramelised nuts into small pieces.

In a small pan place 60 g honey with 30 g caster sugar and the liquid glucose and bring to the boil. Place a candy thermometer in the pan and when the temperature reaches 100°C, start beating, in an electric mixer, 3 egg whites with a pinch of cream of tartar and beat into stiff peaks.

When the syrup has reached 120°C very slowly pour it over the beaten egg whites and continue beating for about 10 minutes on low speed. Then place the preparation in the refrigerator for 10 minutes.

Carefully fold the hazelnut pieces and glacé fruits into the beaten egg white preparation.

Then fold in 300 ml whipped cream. Transfer preparation to a cake mould lined with plastic film, cover and place in the freezer for at least 6 hours.

Just before serving, carefully unmould and cut into slices. Serve with the raspberry sauce.

Raspberry Sauce
300 g raspberries, fresh or frozen
juice of 1 lemon
juice of 1 orange
3 tbsp caster sugar

Place raspberries, lemon and orange juice and caster sugar in a blender and blend to a purée. Strain purée through a fine strainer then refrigerate until 10 minutes before serving.
If you enjoyed this Nougat ice-cream recipe then browse more French recipes, dessert recipes, provence recipes and our most popular hainanese chicken rice recipe.
French Restaurants
Displaying 10 of 470 French Restaurants.
PLEASE NOTE: All submitted comments become the property of SBS. We reserve the right to edit and/or amend submitted comments. HTML tags other than paragraph, line break, bold or italics will be removed from your comment.
Featured Food & Recipes
Hot Tips
More
Peeling and de-seeding tomatoes
To peel and de-seed a tomato, score a small cross in the base of the tomato with your knife; plunge in boiling water for 1 minute, refresh under cold water (running water seems to make peeling easier too); cut in half and scoop out seeds with a dessert spoon.
Glossary
More
Carp
Considered a pest by many Australians, the European carp inhabits many of the continent's waterways. It is however prized by many communities including the Chinese and some Middle Eastern nationalities.