Spinach and feta fatayer recipe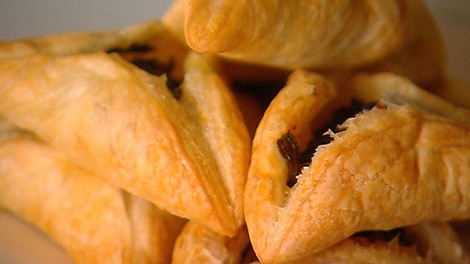 The flavour of the feta through the spinach with the spices is very moorish, I ate these regularly as a daytime snack throughout Syria.
Ingredients
500g fresh spinach, blanched
250g Persian feta
1 onion, finely chopped
Olive oil
Salt & pepper
½ teaspoon ground allspice
1 dessertspoon sumac
400g puff pastry
Flour
View conversion table
Preparation
Preheat oven to 180°C/Gas 4.

Make sure that the spinach has all the excess water squeezed out, and then roughly chop.

In a fry pan heat some olive oil; fry the onions until golden brown. Add the spinach, allspice, sumac and season well. Make sure all ingredients are mixed well.

Cut the puff pastry into 10cm rounds with a pastry cutter. Take a round of puff pastry and lay it flat in your hand and put a dessertspoon in the middle.

To make a traditional three-sided pie, lift up two sides and pinch the neighbouring edges together, making a thin-ridged joint. Lift the third side and join its two edges to the other sides to make a pyramid with a rounded base.

Seal the openings by pinching the edges firmly all the way to the top. Do this with all the discs.

Place the pies on foil on a baking sheet and bake in the oven for 25-30 minutes until golden brown.
If you enjoyed this Spinach and feta fatayer recipe then browse more Moroccan recipes, side dish recipes, cheese and dairy recipes and our most popular hainanese chicken rice recipe.
Moroccan Restaurants
Displaying 10 of 56 Moroccan Restaurants.
PLEASE NOTE: All submitted comments become the property of SBS. We reserve the right to edit and/or amend submitted comments. HTML tags other than paragraph, line break, bold or italics will be removed from your comment.
Featured Food & Recipes
Hot Tips
More
How to store spices
Spices are generally at their best for up to a month, if stored correctly. Store spices in an airtight container in a cool, dark place. Humidity, light and heat will cause herbs and spices to quickly lose their flavour.
Glossary
More
Biber Salcasi
A red pepper paste which can be hot or mild.