Berber tagine omelette recipe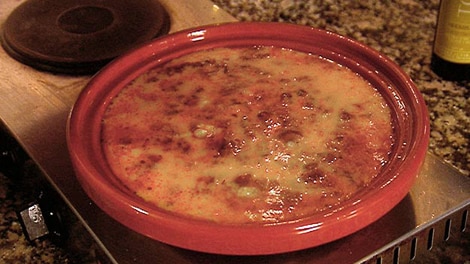 Cuisine:

Moroccan

Prep Time: 20 min(s)
Cook Time: 40 min(s)
Now this was a great find. We were travelling across the High Atlas Mountains of Morocco, stopped for lunch and were told that it would be omelette with bread and salad. And this tagine dish is what we were served. It was so good we filmed it being made and I brought the recipe back to my restaurant and now it is a permanent fixture on the breakfast menu.
Ingredients
olive oil
1 red onion finely chopped
1 teaspoon ground turmeric
1 teaspoon ground coriander
1 teaspoon ground paprika
10 tomatoes, peeled & diced
1 handful chopped coriander
7 eggs, beaten
salt & freshly ground black pepper
View conversion table
Preparation
Preheat oven to 180ºC.

Heat your tagine on the stove and add some olive oil with the onion and cook slowly for about 5 minutes, add the spices and cook for a further 3 minutes, this releases the flavours.

Add the tomatoes and coriander then simmer for about 10-15 minutes, make sure you stir occasionally and reduce to a sauce consistency.

Remove from the heat and pour the beaten eggs over the sauce, cover with the tagine lid and place in the oven for about 10-15 minutes or until it lightly puffs and sets.
To serve, season well and drizzle with a little olive oil.
If you enjoyed this Berber tagine omelette recipe then browse more Moroccan recipes, breakfast recipes and our most popular hainanese chicken rice recipe.
Moroccan Restaurants
Displaying 10 of 56 Moroccan Restaurants.
PLEASE NOTE: All submitted comments become the property of SBS. We reserve the right to edit and/or amend submitted comments. HTML tags other than paragraph, line break, bold or italics will be removed from your comment.
Featured Food & Recipes
Hot Tips
More
Red wine or white wine?
The general rule with wine is that red wine, with its richer and deeper flavours, is a great accompaniment to red meats, while white wine works well with white meats (fish and chicken). However take time to experiment, there are plenty of exceptions to the rules and with wine the rules are definitely made to be broken.
Glossary
More
Biber Salcasi
A red pepper paste which can be hot or mild.