Harira soup with chicken recipe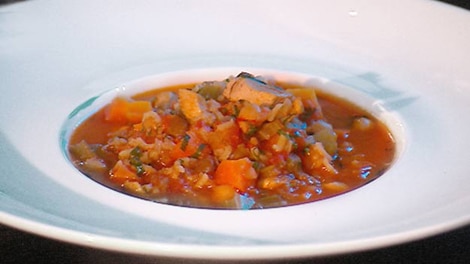 My first experience of Harira soup was in a souk in Fez, and it was delicious. It is traditionally served during the month of Ramadan to break the fast, it can be used as a first course or as I had it, a meal in itself.
Ingredients
Pinch of saffron threads
50ml boiling water
4 chicken breasts diced
Olive oil
1 onion finely chopped
3 celery sticks diced
1 carrot diced
2 garlic cloves minced
1 tsp ground cumin
3 dessertspoons of grated fresh ginger
800g tinned tomatoes
100g cup lentils
100g chickpeas
¼ cup long grain rice
1lt chicken stock
1 lemon juiced
Sea salt & freshly ground black pepper
1 bunch coriander chopped
View conversion table
Preparation
Infuse the saffron in the boiling water for about 2-3 minutes.

In a large saucepan, heat some olive oil, and in 2 batches seal the diced chicken then remove to one side.

Add the garlic, celery carrot and onion, and lightly brown. Now add the ginger, tomatoes, saffron, cumin, lentils, chickpeas & chicken stock, bring to boil and simmer for about 20 minutes.

Add the rice and chicken and simmer for another 15 minutes.
Season with the lemon juice, salt & pepper, then just before you serve add the coriander.
If you enjoyed this Harira soup with chicken recipe then browse more Moroccan recipes, soup recipes and our most popular hainanese chicken rice recipe.
Moroccan Restaurants
Displaying 10 of 56 Moroccan Restaurants.
PLEASE NOTE: All submitted comments become the property of SBS. We reserve the right to edit and/or amend submitted comments. HTML tags other than paragraph, line break, bold or italics will be removed from your comment.
Featured Food & Recipes
Hot Tips
More
Washing rice
Rinsing long-grain white rice before cooking removes excess starch, thus helping the rice cook more evenly and be less sticky. Some specialty rice, such as basmati, is always rinsed and soaked before cooking to obtain separate, perfectly cooked grains. However, other rice, such as Arborio, prized for its starchiness in risotto, is never rinsed.
Glossary
More
Radicchio
A crisp variety of chicory with a bitter, peppery taste. Radicchio has small hearts, red with white veins, and is generally used in salads mixed with other salad leaves.