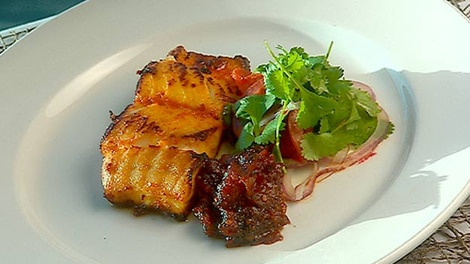 This is one of the best rice dishes I think I've had, the flavour from the coconut, chilli & curry leaves is wonderful and with the fish curry they complement each other so well.
Ingredients
4x200g white fish
Spice paste
5 red chillis deseeded & finely chopped
1 teaspoon coriander seeds
5 black peppercorns
1 teaspoon ground turmeric
1 medium brown onion finely chopped
1 dessertspoon grated fresh ginger
4 garlic gloves grated
1 teaspoon tamarind concentrate
1 teaspoon brown sugar
¼ teaspoon salt
2 dessertspoon olive oil
View conversion table
Preparation
Place all the spice ingredients into a pestle & mortar & pound to a paste.

Then coat all around the fish & leave to marinade for at least 2 hours.

The take a frying pan and shallow fry in vegetable oil, the spices will go dark in colour once fried. Cook for approx 3-4 minutes on each side depending on the size of your fish.

Serve immediately with a good fresh cucumber & red onion salad.
If you enjoyed this Crisp spiced fish recipe then browse more Indian recipes, seafood recipes and our most popular hainanese chicken rice recipe.
Indian Restaurants
Displaying 10 of 717 Indian Restaurants.
PLEASE NOTE: All submitted comments become the property of SBS. We reserve the right to edit and/or amend submitted comments. HTML tags other than paragraph, line break, bold or italics will be removed from your comment.
Featured Food & Recipes
Hot Tips
More
Seasoning meat for goulash
After you have diced your meat for the goulash place it in a plastic bag and add flour and salt and pepper. Twist the top of the bag to seal and give it a good shake. This will ensure that all the meat is evenly coated in the seasoned mixture before you brown it.
Glossary
More
Rambutan
A relation of the lychee, this exotic fruit has a brown leathery skin with soft spines and a white, translucent flesh that resembles the lychee in taste and texture.