Tiramisu recipe
Created by
Vanessa Martin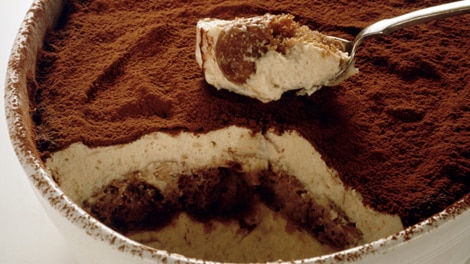 Cuisine:

Italian

Prep Time: 35 min(s)

Serves 6
Tiramisu means "pick me up" in Italian and this easy dessert laced with coffee and liqueur is sure to do just that. This is the ideal recipe for entertaining, as it can be prepared well in advance.
Ingredients
6 eggs, separated
220 g (1 cup) caster sugar
500 g mascarpone
1 cup freshly-made hot, strong, espresso coffee
liqueur (a mixture of Tia Maria, Kahlua and amaretto)
400 g packet pavesini biscuits (a slim version of savoiardi – if unavailable, use savoiardi)
good-quality chocolate, grated
View conversion table
Preparation
Chilling time: 2–3 hours

Level of difficulty: easy




Beat the egg yolks with the sugar until thick and white (this will take at least 15 minutes). Add the mascarpone and beat until just combined but smooth.

Combine the coffee and liqueur (as little or as much as you like) in a bowl. Quickly dip the biscuits into the liquid and set aside on a plate.

Beat the egg whites until thick and stiff then gently fold into the mascarpone mixture.

Layer the soaked biscuits and mascarpone cream in a large glass bowl or individual glass bowls. Refrigerate for at least 2–3 hours. Before serving, top with a generous grating of chocolate.

SBS cook's notes
Oven temperatures are for conventional; if using fan-forced (convection), reduce the temperature by 20˚C. | We use Australian tablespoons and cups: 1 teaspoon equals 5 ml; 1 tablespoon equals 20 ml; 1 cup equals 250 ml. | All herbs are fresh (unless specified) and cups are lightly packed. | All vegetables are medium size and peeled, unless specified. | All eggs are 55–60 g, unless specified.
If you enjoyed this Tiramisu recipe then browse more Italian recipes, dessert recipes, chocolate recipes and our most popular hainanese chicken rice recipe.
Italian Restaurants
Displaying 10 of 2165 Italian Restaurants.
Comments (14)
Previous
Page 1
|
2
Next
PLEASE NOTE: All submitted comments become the property of SBS. We reserve the right to edit and/or amend submitted comments. HTML tags other than paragraph, line break, bold or italics will be removed from your comment.
Featured Food & Recipes
Hot Tips
More
Pebre
The way the onions are prepared for the Pebre is a revelation and crucial for the right taste and texture. To finely chopped onion, mix through raw sugar and hot water then allow it to stand to mellow the acidity. Rinse and mix through salt in the same way.
Glossary
More
Brown Sugar
May be dark or light, the darker variety contains more molasses and has a stronger flavour.