Spicy banana chips recipe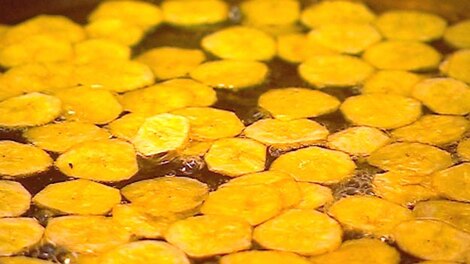 I saw these being made in a hill station called Kumili one rainy evening; I have to say they are very Moorish, and perfect with a cold beer. When I ate them they were just plain, so I've add the sea salt & chilli powder for a little bit of a kick.
Ingredients
500G Unripe bananas
Hot chilli powder
Sea salt
Vegetable oil for frying
View conversion table
Preparation
If you have a wok then this is great for frying these otherwise just use a deep sauce pan. The oil needs to be about 190°C/375°F.

Peel and thinly slice the bananas, deep fry them until golden brown, remove with a slotted onto kitchen paper & drain.

Place in a bowl and sprinkle with the sea salt & chilli powder.

Serve with a good cold beer!
If you enjoyed this Spicy banana chips recipe then browse more Indian recipes, side dish recipes, fruit recipes and our most popular hainanese chicken rice recipe.
Indian Restaurants
Displaying 10 of 717 Indian Restaurants.
PLEASE NOTE: All submitted comments become the property of SBS. We reserve the right to edit and/or amend submitted comments. HTML tags other than paragraph, line break, bold or italics will be removed from your comment.
Featured Food & Recipes
Hot Tips
More
Flavour tip
Piercing the chicken or meat with a fork before marinating will help meats to absorb the flavours.
Glossary
More
Elephant Garlic
Milder than regular garlic and larger, this is actually a member of the leek family but is used as garlic would be.