Pad thai recipe
Created by
Jay Phao-Chinda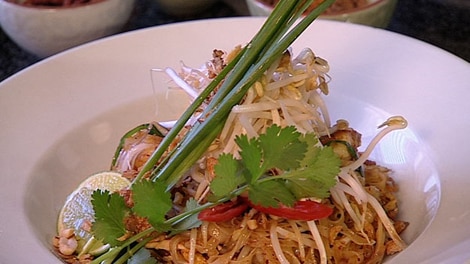 Cuisine:

Thai

Prep Time: 10 min(s)
Cook Time: 20 min(s)

Serves 2
Once you've seen this popular dish made in a Thai kitchen, you realise how easy it is if you know how! It is a wonderful combination of noodles, prawns, crunchy fresh veggies and that distinctive sweet and tangy sauce. A little dried shrimp and preserved radish, with its soft but chewy texture and unique flavour, are two of the essential ingredients. You can adjust the amount of sauce you add to the noodles according to how strong a flavour you like. This quantity of sauce is about right for four people but you can keep any unused sauce in a jar in the refrigerator for next time.

You might also like Suzanne Gibbs' Pad Thai. Or, browse our collection of Thai recipes.

Ingredients
Sauce
100 g tamarind pulp
300 ml warm water
200 g palm sugar
50 g caster sugar
150 ml Thai seasoning sauce
oil
6 large shelled green prawns
10 g dried shrimp
¼ red onion, sliced
40 g firm tofu, sliced
40 g shredded preserved radish
2 eggs
200 g flat rice noodles, soaked in warm water for 30 minutes, drained
garlic chives (some chopped and some left whole to garnish)
bean sprouts
fried shallots
chopped roasted peanuts
roasted chilli powder
lime wedges
View conversion table
Preparation
Combine the tamarind and warm water in a bowl. Break up the pulp with your fingers until it is dissolving into the water. Strain the water into a saucepan, squeezing all the liquid from the pulp. Add the palm sugar, caster sugar and seasoning sauce. Bring to the boil, then simmer until reduced and slightly syrupy.

Heat a little oil in a wok and when hot, add the prawns. Fry until they curl and change colour then add the dried shrimp, onion, tofu and radish. Stir-fry briefly then push the ingredients to one side and crack in the eggs, breaking them up just a little. Without letting them cook completely, add the noodles, 2 tablespoons of water, a few scoops of tamarind sauce (or to taste) and some chopped garlic chives, bean sprouts, fried shallots, peanuts and chilli powder to taste. Stir briefly then serve garnished with whole garlic chives, more bean sprouts, fried shallots, peanuts and wedges of lime.

SBS cook's notes
Oven temperatures are for conventional; if using fan-forced (convection), reduce the temperature by 20˚C. | We use Australian tablespoons and cups: 1 teaspoon equals 5 ml; 1 tablespoon equals 20 ml; 1 cup equals 250 ml. | All herbs are fresh (unless specified) and cups are lightly packed. | All vegetables are medium size and peeled, unless specified. | All eggs are 55–60 g, unless specified.
If you enjoyed this Pad thai recipe then browse more Thai recipes, stir-fry recipes, noodle and dumpling recipes and our most popular hainanese chicken rice recipe.
Thai Restaurants
Displaying 10 of 823 Thai Restaurants.
PLEASE NOTE: All submitted comments become the property of SBS. We reserve the right to edit and/or amend submitted comments. HTML tags other than paragraph, line break, bold or italics will be removed from your comment.
Featured Food & Recipes
Hot Tips
More
Flavour tip
Piercing the chicken or meat with a fork before marinating will help meats to absorb the flavours.
Glossary
More
Bamboo Steamer
Essential for steaming dim sum, vegetables, fish etc. Place food to be cooked on a plate in the steamer and sit into a wok over simmering water. Available in many sizes.