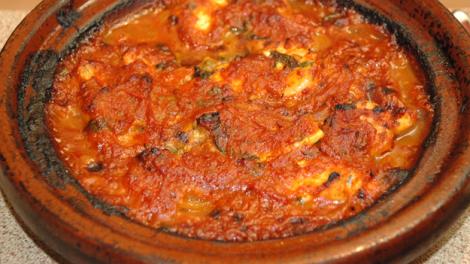 Cuisine:

Egyptian

Prep Time: 4 hr(s) 50 min(s)
Cook Time: 1 hr(s)

Serves 3
The Egyptian tagine is much like the better-known Moroccan tajine – the conical-topped clay cooking pot that cooks spicy stews to perfection. This recipe uses barramundi instead of the traditional Nile perch, but the squid and prawns are authentic, being fruits of Egypt's Mediterranean coastline and its famous river.

Ingredients
Marinated fish
1 - barramundi fillet, cut into 2 cm pieces
1 - squid tube, sliced
250 g - green prawns, shelled and de-veined
½ tbsp - olive oil
1 tbsp - crushed garlic
juice of ½ lime (or lemon)
1 tsp - ground cumin
½ cup - roughly chopped coriander
salt and pepper
Sauce
1 - red capsicum, roasted and peeled
3 - tomatoes, chopped
1 cup - chopped celery
1 tsp - ground cumin
2 tbsp - olive oil
1 - red onion, sliced
1 tbsp - tomato paste
small handful of coriander leaves
salt and pepper
View conversion table
Preparation
Place the barramundi, squid and prawns in a mixing bowl and add the remaining marinade ingredients. Mix well and marinate for 4 hours.

To make the sauce, use a hand-held blender or food processor to blend the capsicum (including its seeds) with the tomato, celery and cumin.

Heat the olive oil in a large frying pan over high heat and fry the red onion until soft. Add the blended sauce and bring to a high simmer. Stir in the tomato paste, coriander and salt and pepper to taste.

Preheat the oven to 180°C. Cover the base of the tagine with some of the sauce, add the seafood, then cover with the remaining sauce. Place the tagine on the stove over medium heat for a few minutes to start the cooking process. Transfer to the oven and cook for 40–45 minutes.

Serve with fresh bread, couscous or rice.

SBS cook's notes
Oven temperatures are for conventional; if using fan-forced (convection), reduce the temperature by 20˚C. | We use Australian tablespoons and cups: 1 teaspoon equals 5 ml; 1 tablespoon equals 20 ml; 1 cup equals 250 ml. | All herbs are fresh (unless specified) and cups are lightly packed. | All vegetables are medium size and peeled, unless specified. | All eggs are 55–60 g, unless specified.
If you enjoyed this Fish tagine recipe then browse more Egyptian recipes, seafood recipes and our most popular hainanese chicken rice recipe.
Egyptian Restaurants
Displaying 4 of 4 Egyptian Restaurants.
Comments (14)
Previous
Page 1
|
2
Next
PLEASE NOTE: All submitted comments become the property of SBS. We reserve the right to edit and/or amend submitted comments. HTML tags other than paragraph, line break, bold or italics will be removed from your comment.
Featured Food & Recipes
Hot Tips
More
Poaching an egg
The key to poached eggs is using a fresh egg. Bring to the boil 1.5 litres of water with a teaspoon of vinegar. When the water is simmering swirl the water to create a whirlpool. Crack your egg into a cup and gently slip the egg into the centre of the whirlpool.
Glossary
More
Tartare
Two meanings: a. sauce made from mayonnaise, gherkins and capers b. steak tartare is made with minced beef served raw with egg yolk and seasoning