Italian coffee ice-cream recipe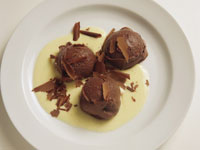 Photography: Dean Wilmot
Cuisine:

Italian

Servings:

Serves 6

Cooking Time:

More than 2 hours

Course:

Dessert, Snacks
Ingredients
6 egg yolks
3 cups (750ml) cream (see tip)
¾ cup (65g) roasted coffee beans
1 cup (220g) caster sugar
chocolate coffee beans
wafers to serve (optional)
View conversion table
Preparation
1. Whisk egg yolks and cream together in a heatproof bowl. Add coffee beans and place bowl over a pan of simmering water on low heat for 10 minutes, stirring constantly, until thick enough to coat back of spoon. Remove from heat, add sugar and stir until dissolved. Cover and refrigerate for 2-3 hours, so flavours infuse.

2. Meanwhile, if not using an ice-cream maker, turn freezer to coldest setting. Strain coffee custard into a 10 x 20cm metal loaf pan. Cover tightly with foil and freeze until partially frozen. Transfer to a chilled bowl and beat until ice particles break up. Return to loaf pan and freeze overnight, until firm. Alternatively, churn in an ice-cream maker according to manufacturer's directions. Pour into a loaf pan, cover with foil and freeze overnight.

3. To serve, scoop into glasses and sprinkle with chocolate coffee beans. Serve with wafers to the side, if you like.


If you enjoyed this Italian coffee ice-cream recipe then browse more Italian recipes, Modern Australian recipes, nut-free recipes, low-carb recipes, vegetarian recipes and our most popular hainanese chicken rice recipe.
Italian Restaurants
Displaying 10 of 2165 Italian Restaurants.
PLEASE NOTE: All submitted comments become the property of SBS. We reserve the right to edit and/or amend submitted comments. HTML tags other than paragraph, line break, bold or italics will be removed from your comment.
Featured Food & Recipes
Hot Tips
More
Herb sense
Coriander and parsley will keep longer if stored upright in the fridge in a glass containing 1–2 cm water and covered with a plastic bag. To ensure dried mint packs a refreshing punch, buy in small quantities from a vendor you know has a high turnover.
Glossary
More
Carp
Considered a pest by many Australians, the European carp inhabits many of the continent's waterways. It is however prized by many communities including the Chinese and some Middle Eastern nationalities.