Sauerbraten with napkin dumplings and sautéed cabbage recipe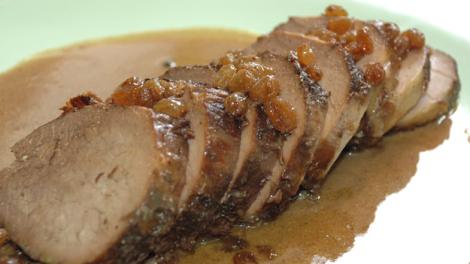 Cuisine:

German

Prep Time: 20 min(s)
Cook Time: 2 hr(s) 50 min(s)

Serves 8
Sauerbraten (sour roast) is said to be Germany's national dish. It's a long-marinated meat dish that uses some of the great flavours of German cooking – juniper berries, allspice and red wine. Detlef likes to use star anise and the red-currant jelly, sour cream and sultanas are added for a slightly sweet finish. This recipe is very yummy and the bread dumplings are worth the work!

You will need to begin this recipe two days ahead.

Ingredients
Sauerbraten
200 ml - red wine
200 ml - red-wine vinegar
500 ml - water
6 - juniper berries (or more to taste)
a few star anise or whole allspice berries
a few peppercorns
2 - bay leaves
1 kg - piece of beef brisket or rump
2 - carrots, roughly chopped
2 - celery stalks, roughly chopped
1 - onion, roughly chopped
1 - leek, roughly chopped
a few flat-leaf parsley stalks
salt and pepper
olive oil
butter
60 g gingerbread from last Christmas, crumbled (optional)
2 tbsp - sour cream
100 g - red-currant jelly
150 g - sultanas or raisins
Dumplings
1 - large good-quality, day-old vienna loaf, crusts discarded and cut into chunky cubes
150 ml - milk
1 - onion, diced
100 g - speck, diced
duck fat or lard
4–6 - eggs
½ bunch - flat-leaf parsley, finely chopped
a little freshly grated nutmeg
salt and pepper
fresh breadcrumbs if needed
butter (optional)
Cabbage
1 - onion, diced
100 g - speck, diced
1 tbsp - duck fat or lard
½ - cabbage, finely sliced
1 tsp - caraway seeds
salt
View conversion table
Preparation
Bring the red wine, vinegar and water to the boil. Add the spices and bay leaves and allow to cool. Place the beef, vegetables and parsley in a deep bowl and pour over the red-wine marinade. Marinate in a cool place (or in the refrigerator) for a minimum of 2 days, turning the beef frequently.

Take the beef out of the marinade and pat dry with paper towel. Rub the beef generously with salt and pepper. Heat some olive oil and a knob of butter in a heavy-based ovenproof pot and quickly seal the meat, browning well all over. Add the vegetables from the marinade and sauté with the beef.

Pour over the marinade liquid and add the gingerbread if using. Bring almost to the boil then reduce the heat, cover and braise the beef over low heat for 1½–2 hours or until the meat is tender. Add more water if necessary to keep the beef covered while it cooks.

Meanwhile, make the dumplings. Place the bread pieces in a bowl. Heat the milk and pour it over the bread. Sauté the onion and speck in a little duck fat or lard until the onion is glossy and the speck is cooked and add to the bread. Add 4 eggs, one at a time, mixing well with a wooden spoon. Add the parsley and nutmeg and season well with salt and pepper. If the mixture seems too dry you may need to add another egg or two. If it appears too wet, add a handful of breadcrumbs. Turn the mixture onto a piece of muslin cloth and shape into a large sausage. Roll up inside the cloth and tie the ends tightly with butcher's string.

Carefully slide the dumpling into a saucepan of boiling salted water and cook for about 40 minutes. Remove from the water and let it cool a little before unwrapping and cutting into slices 2 fingers thick. You can serve the dumplings like this, or pan-fry the slices in butter to add a bit of extra flavour and crunchiness.

When the beef is cooked, remove it and keep warm. Strain the liquid, discarding the vegetables, and return it to the pot to reduce a little and form a sauce. Whisk in the sour cream and red-currant jelly and season well. Rinse the sultanas or raisins under warm water and add to the sauce. Keep simmering at very low heat.

To make the cabbage, sauté the onion and speck in the duck fat or lard until the onion is glossy and the speck is cooked. Add the cabbage and sauté for 2–3 minutes. Add the caraway seeds and a little salt.

Slice the beef and arrange on a warm plate. Dress with the sauce and serve with the hot dumplings and cabbage.

SBS cook's notes
Oven temperatures are for conventional; if using fan-forced (convection), reduce the temperature by 20˚C. | We use Australian tablespoons and cups: 1 teaspoon equals 5 ml; 1 tablespoon equals 20 ml; 1 cup equals 250 ml. | All herbs are fresh (unless specified) and cups are lightly packed. | All vegetables are medium size and peeled, unless specified. | All eggs are 55–60 g, unless specified.
If you enjoyed this Sauerbraten with napkin dumplings and sautéed cabbage recipe then browse more German recipes, meat recipes, oktoberfest recipes and our most popular hainanese chicken rice recipe.
German Restaurants
Displaying 10 of 57 German Restaurants.
PLEASE NOTE: All submitted comments become the property of SBS. We reserve the right to edit and/or amend submitted comments. HTML tags other than paragraph, line break, bold or italics will be removed from your comment.
Featured Food & Recipes
Hot Tips
More
Malagueta chillis
If you can not find a malagueta chilli (a popular addition to many Brazilian dishes) you can substitute with other hot chillies such as jalapeno or add a few drops of Tabasco.
Glossary
More
Mistika
An Arabic gum with a hard, crystalline texture. Usually ground before adding to a recipe.