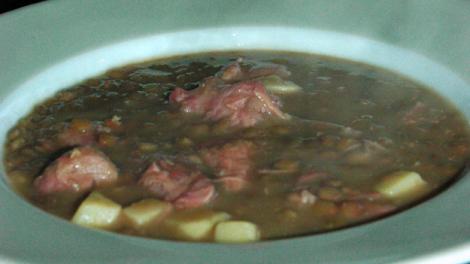 Cuisine:

German

Prep Time: 2 hr(s) 20 min(s)
Cook Time: 3 hr(s) 45 min(s)

Serves 6
Smoked pork belly or hock is the basis of the stock used to make this hearty soup. Celery, carrot and parsnip are also used, although any other good stock vegetables can be included. Traditionally eaten during the autumn harvest in the wine region of Germany, this soup recipe can be stretched depending on how many people you're feeding – this version feeds six people. You can happily make more than you need as the soup keeps well and gets better with time – simply freeze or store in the refrigerator for up to five days.

Ingredients
1 - smoked pork belly or hock
2 - celery stalks, roughly chopped
2 - carrots, roughly chopped
1 - parsnip, roughly chopped
2–3 litres - water
salt
4 cups - green lentils, soaked for 2 hours
3 - large, waxy potatoes, cut into cubes
1 tbsp - lard
1 tbsp - plain flour
View conversion table
Preparation
Place the belly or hock, celery, carrot and parsnip in a large pot and cover with the water. Add 2 teaspoons salt (or less if the pork is very salty) and bring to the boil. Simmer gently for a couple of hours.

Remove the pork and strain the stock, discarding the vegetables. Bring the stock back to a simmer and add the lentils. Cook for 10 minutes.

Cut the pork into rough smallish chunks and add back to the pot. Simmer for a few more minutes then add the potato. Cook for another 15–20 minutes.

Melt the lard in a frying pan and add the flour and brown lightly. Add to the soup being careful not to let it splash and burn; as the flour cooks it will thicken the soup.

SBS cook's notes
Oven temperatures are for conventional; if using fan-forced (convection), reduce the temperature by 20˚C. | We use Australian tablespoons and cups: 1 teaspoon equals 5 ml; 1 tablespoon equals 20 ml; 1 cup equals 250 ml. | All herbs are fresh (unless specified) and cups are lightly packed. | All vegetables are medium size and peeled, unless specified. | All eggs are 55–60 g, unless specified.
If you enjoyed this Lentil soup recipe then browse more German recipes, soup recipes, meat recipes and our most popular hainanese chicken rice recipe.
German Restaurants
Displaying 10 of 57 German Restaurants.
PLEASE NOTE: All submitted comments become the property of SBS. We reserve the right to edit and/or amend submitted comments. HTML tags other than paragraph, line break, bold or italics will be removed from your comment.
Featured Food & Recipes
Hot Tips
More
Soy sauce
When buying soy sauce, buy the best quality you can afford.
Glossary
More
Za'atar
Za'atar is a mix of thyme, roasted sesame seeds, sumac and salt. Mix Za'atar with a little olive oil and serve as a dip or spread on flat bread.