Banana flower salad recipe
Created by
Rachda Mahamontchir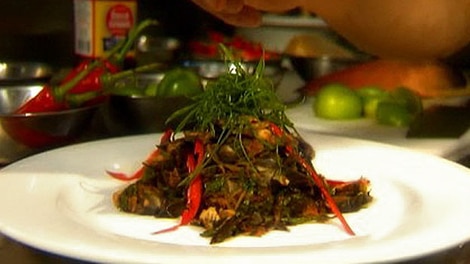 Cuisine:

Thai

Prep Time: 25 min(s)
Cook Time: 15 min(s)

Serves 4
This is a wonderful Thai dish which combines the deliciously rich and creamy texture of the banana flower with crunchy cashew nuts, the heat of roasted chilli and all the other ingredients. Banana flowers are the buds of the banana plant, which are soaked and shredded for use in salads. They are also available preserved from Asian grocery shops - soak in cold water for 10 minutes and rinse before use.
Ingredients
100 g chicken breast fillet, sliced
200 g green king prawns, shelled and de-veined
2 tbsp lime juice
1 banana flower (about 200 g)
50 g dried shrimp, finely chopped
1 tbsp sliced shallots
2 tbsp cashews, roasted and crushed
finely sliced long red chilli
fried shallots
handful of coriander leaves
Dressing
2 tbsp fish sauce
3 tbsp lime juice
1 tbsp grated palm sugar
1 tbsp roasted chilli paste
2 tsp Thai roasted chilli powder
3 tbsp coconut milk
View conversion table
Preparation
Bring 500 ml of water to the boil. Add the chicken, reduce the heat to a simmer and poach for 5 minutes. Add the prawns and continue poaching for 3 minutes, until cooked through. Drain and set aside.

Pour the lime juice and 500 ml of water into a bowl. Cut the banana flower in half and remove the soft, pale heart from each half, discarding the outer leaves. Finely slice on the diagonal and add to the bowl. Soak for 5 minutes; the lime will prevent discolouration.

Combine the dressing ingredients in a large bowl, stirring until the palm sugar dissolves. Drain the banana flower, gently squeeze out the excess water, and add to the dressing along with the poached chicken and prawns, dried shrimp, sliced shallots and cashews. Mix well.

Serve sprinkled with fresh chilli, fried shallots and coriander.

SBS cook's notes
Oven temperatures are for conventional; if using fan-forced (convection), reduce the temperature by 20˚C. | We use Australian tablespoons and cups: 1 teaspoon equals 5 ml; 1 tablespoon equals 20 ml; 1 cup equals 250 ml. | All herbs are fresh (unless specified) and cups are lightly packed. | All vegetables are medium size and peeled, unless specified. | All eggs are 55–60 g, unless specified.
If you enjoyed this Banana flower salad recipe then browse more Thai recipes, salad recipes, side dish recipes, entertaining recipes and our most popular hainanese chicken rice recipe.
Thai Restaurants
Displaying 10 of 823 Thai Restaurants.
PLEASE NOTE: All submitted comments become the property of SBS. We reserve the right to edit and/or amend submitted comments. HTML tags other than paragraph, line break, bold or italics will be removed from your comment.
Featured Food & Recipes
Hot Tips
More
Meat slices
To achieve the fine slices of meat required in many Korean dishes, the meat is sliced whilst frozen.
Glossary
More
Porcini Mushrooms
Dried mushrooms. Usually re-hydrated before use by soaking in boiling water.