Italian onion soup recipe
Created by
Mandy Sinclair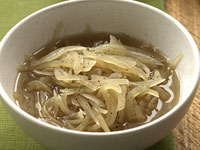 Photography: Dean Wilmot
Cuisine:

Italian

Servings:

Serves 4

Cooking Time:

More than 1 hour

Course:

Entree, Lunch
Ingredients
2 tablespoons olive oil
6 onions, thinly sliced
3 garlic cloves, crushed
1/2 cup (125ml) malt vinegar (see tip)
2 tablespoons brown sugar
3 cups (750ml) reduced- salt chicken stock
4 slices crusty bread, toasted
1/2 cup (100g) low-fat ricotta
kJ 880, fat 12g, sat fat 3g.
View conversion table
Preparation
1. Heat oil in a large heavy-based saucepan on medium. Cook onion and garlic for 20 minutes, stirring occasionally, until onion is soft and starts to caramelise. Stir through vinegar and sugar and cook for 2 minutes.

2. Add stock and 3 cups water. Simmer on low heat, uncovered, for 45 minutes, until onion is very soft and soup thickens slightly.

3. Ladle into bowls and serve with toasted crusty bread topped with ricotta.




If you enjoyed this Italian onion soup recipe then browse more Italian recipes, child-friendly recipes, nut-free recipes, egg-free recipes, low-fat recipes, low-carb recipes, low-cholesterol recipes, low-gi recipes, heart-friendly recipes and our most popular hainanese chicken rice recipe.
Italian Restaurants
Displaying 10 of 2165 Italian Restaurants.
PLEASE NOTE: All submitted comments become the property of SBS. We reserve the right to edit and/or amend submitted comments. HTML tags other than paragraph, line break, bold or italics will be removed from your comment.
Featured Food & Recipes
Hot Tips
More
How to judge the heat of a chilli
Generally the smaller the chilli the hotter the heat. By removing seeds and flesh this you will decrease the heat of the chilli. Wash your hands thoroughly after coming in contact with chilli, as the capsicin (the oil within the chilli) burns when it comes in contact with your eyes or sensitive skin.
Glossary
More
Biko
A Filipino sweet made with glutinous rice cooked in coconut milk.