Red duck curry recipe (kaeng ped pett yang)
Created by
Sujet Saengkham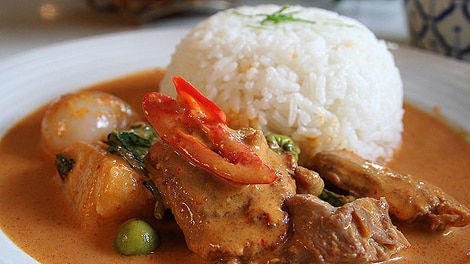 Cuisine:

Thai

Prep Time: 25 min(s)
Cook Time: 30 min(s)

Serves 4
Some people swear by making fresh coconut milk every day! If this sounds a bit extreme, you can always do what Sujet does before he starts this recipe, which is to boil tinned coconut milk for 5 minutes to rid it of the 'tinned taste'. The curry is finished with Thai basil, which you should always add after you've turned off the heat to stop the leaves turning black.

Ingredients
Red curry paste
10 dried long chillies, softened in warm water for 10 minutes, drained
2–3 fresh small red chillies
1 lemongrass stalk, white part only, sliced
2 cm piece galangal, sliced
1 cm piece fresh turmeric, sliced
7 garlic cloves
1 shallot, sliced
rind of 1 kaffir lime
1 tbsp shrimp paste
125 ml water
vegetable oil

400 ml coconut milk
300 g roasted duck meat, skin removed, broken into large bite-sized pieces
1 tbsp fish sauce
4 tinned lychees and 1 tablespoon juice from the tin
4 bite-sized chunks of fresh pineapple
100 g apple eggplants, cut into wedges
100 g pea eggplants
1 long red chilli, diagonally sliced
6 kaffir lime leaves, torn
50 g Thai basil leaves, torn
View conversion table
Preparation
Put the curry paste ingredients other than the oil in a blender and process to a smooth paste.

Heat a little oil in a small frying pan and fry the paste for 10 minutes to remove the raw taste. Spoon into a jar.

Heat half of the coconut milk in a saucepan over medium heat. Add 3 tablespoons of curry paste (store the rest in the refrigerator) and stir well to combine. Cook for about 5 minutes, until the oil starts to come to the surface. Add the duck, fish sauce, lychees, lychee juice, pineapple and remaining coconut milk. Bring to the boil and add the eggplants and chilli. Cook for a few minutes, until the eggplants are just tender. Stir in the lime leaves, then remove from the heat and stir in the basil. Serve with steamed rice.

SBS cook's notes
Oven temperatures are for conventional; if using fan-forced (convection), reduce the temperature by 20˚C. | We use Australian tablespoons and cups: 1 teaspoon equals 5 ml; 1 tablespoon equals 20 ml; 1 cup equals 250 ml. | All herbs are fresh (unless specified) and cups are lightly packed. | All vegetables are medium size and peeled, unless specified. | All eggs are 55–60 g, unless specified.
If you enjoyed this Red duck curry recipe (kaeng ped pett yang) then browse more Thai recipes, curry recipes, meat recipes, fruit recipes and our most popular hainanese chicken rice recipe.
Thai Restaurants
Displaying 10 of 823 Thai Restaurants.
PLEASE NOTE: All submitted comments become the property of SBS. We reserve the right to edit and/or amend submitted comments. HTML tags other than paragraph, line break, bold or italics will be removed from your comment.
Featured Food & Recipes
Hot Tips
More
Keeping champagne fizzy
If you want to keep champagne fizzy to drink the next day try placing a silver spoon in the neck of the bottle (handle pointing into the liquid). They have been doing this for decades in France and many swear by it!
Glossary
More
Framboise
A raspberry liqueur with a high alcohol content.