Akara with red kosayi recipe (black-eyed bean fritters with dipping sauce)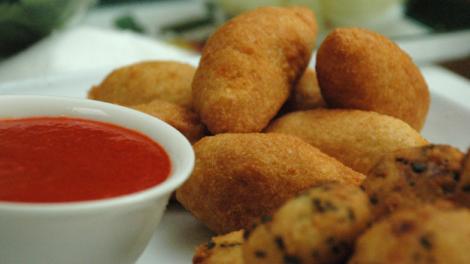 Cuisine:

African

Prep Time: 2 hr(s) 55 min(s)
Cook Time: 1 hr(s)

Makes about 25 fritters
Protein-rich and widely available, black-eyed beans are a popular ingredient throughout Africa and akara, or black-eyed bean fritters, are the national snack food of Senegal and Nigeria. These fritters are great for vegetarians and vegans and are especially delicious with the kosayi dipping sauce.

A good red kosayi shouldn't be too hot – you should just be able to feel the heat. The sauce will keep for about six months in the refrigerator and the older it gets the better it tastes. This recipe recommends you make the sauce at least two days before you want to use it.

You will need to begin this recipe two days ahead.

Ingredients
Red kosayi
9 small red capsicums
3 long red chillies
7 small red hot or habanera* chillies
2 tbsp vegetable oil
75 g (⅓ cup) sugar
75 ml white vinegar
1 tsp salt
olive oil
Akara
500 g black-eyed beans
salt and pepper
handful of fresh herbs such as flat-leaf
parsley or coriander, chopped (optional)
1 tsp baking powder (optional)
oil for frying
*
If replacing the 7 small hot chillies (with habanera chillies) you must remove the seeds and veins before blanching them in boiling water
.
View conversion table
Preparation
To make the

kosayi

, place the whole capsicums and chillies in a large saucepan of cold water and bring to the boil. Simmer for 25 minutes or until the capsicums are soft. Remove from the heat, cover with a lid and set aside until cool.

When cooled, dry the capsicums and chillies and remove the seeds. Peel the capsicums. Place the capsicums and chillies in a food processor and blend to a paste. Press the mixture through a fine sieve to remove any remaining skin.

Add the oil, sugar, vinegar and salt and mix together well. Pour the mixture into a sterilised jar with a thin layer of olive oil on top and leave in the refrigerator for at least 2 days to mature.

To make the

akara

, bring a large saucepan of water to the boil, add the beans and boil for 2 minutes. Drain the beans and spread them out on a clean tea towel. Cover with a second tea towel and roll the beans back and forth between the towels using the palms of your hands. After a few minutes the beans will have shed their skins. Remove any skins that remain attached to individual beans by rubbing the bean between your thumb and forefinger. To separate the beans from the skins, tip them back into the saucepan, add lots of water and swirl around in a circular motion until the skins have risen to the top. Scoop out the skins and leave the beans to soak for 2 hours.

In a food processor blend the beans to a very fine paste. Knead the paste for 2–3 minutes, until the starch is released, then divide in half.

Place one half in a bowl over a saucepan of simmering water and stir continuously with a rubber spatula or wooden spoon until the mixture comes together like a dough. Take great care that the mixture does not cook or curdle. If necessary, briefly lift the bowl away from the heat from time to time. Then mix in the remaining paste and continue stirring over the simmering water for about 1 minute, so the dough comes together. Take the bowl off the heat and continue to stir until the dough has cooled to room temperature.

Season the bean dough and add herbs if using. Add the baking powder if you want a lighter texture. Shape into fritters roughly the size of eggs and shallow-fry in oil. (You can deep-fry the fritters if you prefer or wrap them in banana leaves and steam them.) Serve the fritters warm or cold with a dipping bowl of kosayi.



SBS cook's notes




Oven temperatures are for conventional; if using fan-forced (convection), reduce the temperature by 20˚C. | We use Australian tablespoons and cups: 1 teaspoon equals 5 ml; 1 tablespoon equals 20 ml; 1 cup equals 250 ml. | All herbs are fresh (unless specified) and cups are lightly packed. | All vegetables are medium size and peeled, unless specified. | All eggs are 55–60 g, unless specified.



If you enjoyed this Akara with red kosayi recipe (black-eyed bean fritters with dipping sauce) then browse more African recipes, side dish recipes, vegetarian recipes and our most popular hainanese chicken rice recipe.
African Restaurants
Displaying 0 of 0 African Restaurants.
| | | | |
| --- | --- | --- | --- |
| | Restaurant | Book Online | Suburb |
Comments (10)
Previous
Page 1
|
2
Next
PLEASE NOTE: All submitted comments become the property of SBS. We reserve the right to edit and/or amend submitted comments. HTML tags other than paragraph, line break, bold or italics will be removed from your comment.
Featured Food & Recipes
Hot Tips
More
Bread crumbs
You can easily turn unused bread into breadcrumbs. Lightly dry the bread in a moderate oven and then pulse in a food processor until desired coarseness. Do not use stale bread as this will result in stale tasting bread crumbs.
Glossary
More
Black Peppercorns
The precursor to the chilli in Asia before their introduction by Columbus, black peppercorns are the dried unripe berries of the pepper plant and are essential to Sri Lankan cuisine.