Ethiopian red chicken stew recipe (doro wat)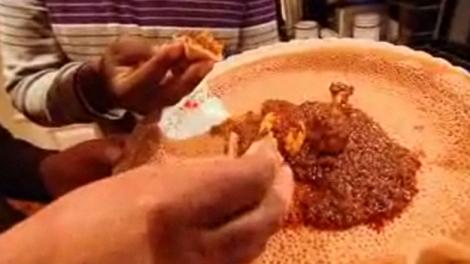 Cuisine:

African

Prep Time: 50 min(s)
Cook Time: 2 hr(s) 15 min(s)

Serves 8
A Wat' or Wet is a red stew that uses the marvellous red berbere spice mix and a rich base of onion. A vast quantity of onions is used so it is a good idea to finely dice these in a food processor. If six tablespoons of berbere sound like a lot (it contains plenty of chilli powder), reduce the amount when you first cook this recipe – you can always make it hotter next time! For a healthier alternative you can replace the niter kibbeh with more olive oil. If you can't find African basil (it is not readily available in Australia), simply leave it out.

This dish is traditionally served on top of injera bread. It is best left to sit overnight so that the flavours infuse – then eat it the following day at room temperature.

Ingredients
3 kg onions, finely diced
1 large chicken, preferably free-range
100 ml white vinegar
juice of 1 lemon
100 ml olive oil
3 tbsp niter kibbeh
6 tbsp berbere
12 eggs, hard-boiled
Mixed spices
2 tbsp cardamom seeds
2 tbsp nigella seeds
2 tbsp ajowan or fennel seeds
1 tbsp dried African basil (optional)
2 tsp black peppercorns
2 tbsp salt
View conversion table
Preparation
Place the onion in a large, heavy-based pot, cover with a lid and cook over low–medium heat, stirring occasionally. Do not add any oil or liquid. Cook for about 1 hour, until the onion has reduced.

While the onion is cooking, remove the skin from the chicken and cut into portions, trimming off any fat. (In Ethiopia, they cut it into 21 portions.) Mix the vinegar and lemon juice together and sit the chicken pieces in the liquid for 10–15 minutes, then drain.

Combine the ingredients for the mixed spices in a mortar and grind to a powder.

When the onion has reduced add the olive oil, niter kibbeh and berbere and stir well. Add the chicken. Bring the mixture to the boil, then reduce the heat to a simmer. Stir the spices into the stew and add extra salt if needed. Simmer until the chicken is cooked through, making sure the onion does not stick to the bottom of the pot. Spoon out some of the excess oil that settles on top.

Cut vertical grooves into the hard-boiled eggs to ensure the flavour seeps in. When the stew is cooked, add the eggs and turn off the heat. The doro wat can be served immediately with injera but is even better the following day when the spices have worked their magic.



SBS cook's notes




Oven temperatures are for conventional; if using fan-forced (convection), reduce the temperature by 20˚C. | We use Australian tablespoons and cups: 1 teaspoon equals 5 ml; 1 tablespoon equals 20 ml; 1 cup equals 250 ml. | All herbs are fresh (unless specified) and cups are lightly packed. | All vegetables are medium size and peeled, unless specified. | All eggs are 55–60 g, unless specified.



If you enjoyed this Ethiopian red chicken stew recipe (doro wat) then browse more African recipes, stew recipes, meat recipes and our most popular hainanese chicken rice recipe.
African Restaurants
Displaying 0 of 0 African Restaurants.
| | | | |
| --- | --- | --- | --- |
| | Restaurant | Book Online | Suburb |
PLEASE NOTE: All submitted comments become the property of SBS. We reserve the right to edit and/or amend submitted comments. HTML tags other than paragraph, line break, bold or italics will be removed from your comment.
Featured Food & Recipes
Hot Tips
More
Dry ingredients
Herbs and spices are used frequently in Polish cooking. Key dry ingredients to keep on hand include paprika, caraway, cloves, poppy seeds and bay leaves.
Glossary
More
Macaron
A small biscuit or cake, crunchy outside and soft inside, made with ground almonds, sugar and egg whites.