West African ginger drink recipe
Created by
Cosmos Kwabena Amofah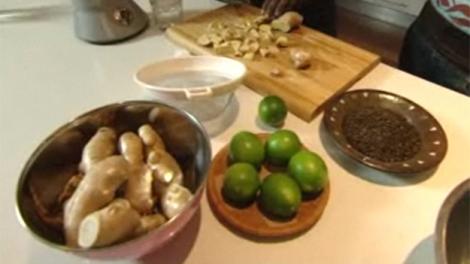 This is a healthy, refreshing, zesty drink. It's taken either hot or cold, and is an excellent flu remedy.
Ingredients
3 large ginger roots
6 limes
2-3 cups of water
1 heaped tbsp peppercorns
1 heaped tbsp raw sugar

View conversion table
Preparation
Leaving the skin on, chop the ginger into small pieces.
Chop lime with rind into small chunks.
In a blender, put more ginger than lime and add enough water to be able to blend it. Taste the mixture as you go and add more lime or ginger as needed.
Strain the mixture through a sieve into a bowl and squeeze remaining juice from the pulp.
In the blender add peppercorns and sugar – then return the strained liquid to the blender and blend until smooth.

Once more strain the mixture through a sieve into a saucepan.
Heat the saucepan and bring the liquid to the boil. As soon as the liquid has reached boiling point take it off the heat and allow to cool.
Pour liquid over ice and add a little cold water and drink!

If you enjoyed this West African ginger drink recipe then browse more African recipes, beverage recipes and our most popular hainanese chicken rice recipe.
African Restaurants
Displaying 0 of 0 African Restaurants.
| | | | |
| --- | --- | --- | --- |
| | Restaurant | Book Online | Suburb |
Comments (10)
Previous
Page 1
|
2
Next
PLEASE NOTE: All submitted comments become the property of SBS. We reserve the right to edit and/or amend submitted comments. HTML tags other than paragraph, line break, bold or italics will be removed from your comment.
Featured Food & Recipes
Hot Tips
More
Soy sauce
When buying soy sauce, buy the best quality you can afford.
Glossary
More
Jackfruit
Jackfruit (Mit) is a large, green fruit with a tough, knobbly skin which reveals a yellow segmented flesh when opened. It has a taste that is naturally sweet. In Vietnam, the young jackfruit is used like a vegetable in cooking or in salad.