Pear and ginger slice recipe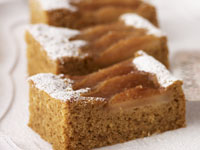 Photography: Dean Wilmot
Cuisine:

Modern Australian

Servings:

Serves 10 or more

Cooking Time:

Less than 60 minutes

Course:

Dessert, Snacks
Ingredients
125g butter, at room temperature, cubed
1 cup (165g) firmly packed brown sugar
2 eggs
2 cups (300g) self-raising flour
1 ½ teaspoons ground ginger
1 teaspoon mixed spice
¾ cup (185g) sour cream
2 tablespoons milk
2 ripe pears, peeled, cored, sliced
1 tablespoon caster sugar
½ teaspoon ground cinnamon
Icing sugar, for dusting (optional)
View conversion table
Preparation
1. Preheat oven to 180°C or 160°C fan. Lightly grease and line base of a 22cm x 28cm lamington pan with baking paper.

2. Using an electric mixer, beat butter and sugar together until creamy. Add eggs, one at a time, beating well after each addition. Fold in sifted flour and spices alternately with combined sour cream and milk, beginning and ending with flour.

3. Spoon mixture into prepared pan, smoothing top. Arrange pear slices over cake and sprinkle with combined sugar and cinnamon.

4. Bake for 30-40 minutes, until cooked when tested. Cool in pan for 5 minutes before turning onto a wire rack to cool completely. Dust with icing sugar before slicing if you like.


If you enjoyed this Pear and ginger slice recipe then browse more Modern Australian recipes, child-friendly recipes, nut-free recipes and our most popular hainanese chicken rice recipe.
Modern Australian Restaurants
Displaying 10 of 601 Modern Australian Restaurants.
PLEASE NOTE: All submitted comments become the property of SBS. We reserve the right to edit and/or amend submitted comments. HTML tags other than paragraph, line break, bold or italics will be removed from your comment.
Featured Food & Recipes
Hot Tips
More
Tortilla de Patatas
When frying the potatoes for Tortilla de Patatas just cook them until soft not crisp.
Glossary
More
Carne Seca
Carne Seca is - literally translated as dried meat, the term carne seca encompasses varying cuts of beef which are salted and cured.