Orange and almond cake recipe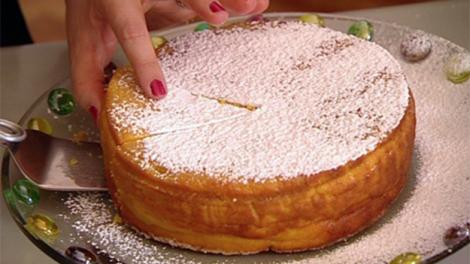 Cuisine:

Jewish

Prep Time: 15 min(s)
Cook Time: 3 hr(s) 30 min(s)

Serves 10–12
This recipe has caused an orange and almond cake revolution! A classic Passover dessert that draws on the Sephardic traditions of Morocco, the Mediterranean and the Middle East, this version has seduced the tastebuds of many – even people who normally never make cakes love its simplicity. The oranges boil for two hours and are then pureed, skin, pips and all.

Ingredients
2 oranges
250 g caster sugar, plus extra for dusting
6 eggs
250 g almond meal
1 tsp baking powder
icing sugar
Margarine or oil spray (for greasing the pan)
View conversion table
Preparation
Wash the oranges and cook in boiling water for 2 hours. Drain and allow the oranges to cool before pureeing. This can be done ahead of time.

Preheat the oven to 160°C. Butter a 20 cm springform cake tin and dust it with a little caster sugar. Place the eggs and 250 g of caster sugar in a mixing bowl and beat well. Stir in the orange puree followed by the almond meal and baking powder. Pour into the tin and dust the top with more caster sugar. Bake for 1–1½ hours, until the top is golden brown. Dust with icing sugar to serve.

SBS cook's notes
Oven temperatures are for conventional; if using fan-forced (convection), reduce the temperature by 20˚C. | We use Australian tablespoons and cups: 1 teaspoon equals 5 ml; 1 tablespoon equals 20 ml; 1 cup equals 250 ml. | All herbs are fresh (unless specified) and cups are lightly packed. | All vegetables are medium size and peeled, unless specified. | All eggs are 55–60 g, unless specified.

View all SBS Cake recipes.

If you enjoyed this Orange and almond cake recipe then browse more Jewish recipes, dessert recipes, cake recipes, baking recipes and our most popular hainanese chicken rice recipe.
Jewish Restaurants
Displaying 4 of 4 Jewish Restaurants.
PLEASE NOTE: All submitted comments become the property of SBS. We reserve the right to edit and/or amend submitted comments. HTML tags other than paragraph, line break, bold or italics will be removed from your comment.
Featured Food & Recipes
Hot Tips
More
Condiments
Many Filipino dishes are accompanied by a selection of sawsawan, dipping sauces or condiments. Common condiments include fish sauce or soy sauce mixed with kalamansi juice, or vinegar mixed with crushed garlic or chillies.
Glossary
More
Cinnamon Sugar
Combination of sugar and ground cinnamon. Can be used to sprinkle on sugar cookies, baked apples, and buttered toast.