Chicken soup with matzo balls recipe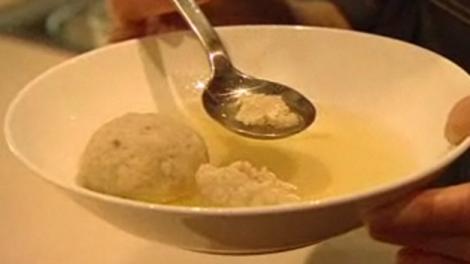 Cuisine:

Jewish

Prep Time: 20 min(s)
Cook Time: 2 hr(s) 55 min(s)

Serves 8–10
Known as 'Jewish penicillin', chicken soup is regarded as a cure-all and is a mainstay of the Ashkenazi Shabbat table.

You will need to begin this recipe one day ahead.

Ingredients
1 kg meaty chicken bones, remove skin (necks and drumsticks good)
1 onion, cut into chunks
3 carrots, cut into chunks
1 leek, cut into chunks
2 parsnips, cut into chunks
Matzo balls
2 eggs
3 pinches salt
½ tsp cinnamon
2 cups coarse matzo meal
125 ml light olive oil
125 ml water
View conversion table
Preparation
In a large pot, cover the chicken with cold water and bring to the boil. Simmer until the chicken is cooked through. Skim off any foam. Add the vegetables, cover and simmer for 2 hours. Strain the soup, discarding the solids, and refrigerate overnight.

To make the matzo balls, beat the eggs in a bowl. Add the remaining ingredients and mix well. Refrigerate overnight.

To cook the matzo balls, bring a large saucepan of salted water to a simmer. With damp hands, form golf ball-sized portions of the matzo mixture. Drop the balls into the pot. Cover and simmer for 20–25 minutes.

Remove any solidified fat from the soup before reheating. Place several matzo balls in each serving bowl and ladle over the hot soup.

SBS cook's notes
Oven temperatures are for conventional; if using fan-forced (convection), reduce the temperature by 20˚C. | We use Australian tablespoons and cups: 1 teaspoon equals 5 ml; 1 tablespoon equals 20 ml; 1 cup equals 250 ml. | All herbs are fresh (unless specified) and cups are lightly packed. | All vegetables are medium size and peeled, unless specified. | All eggs are 55–60 g, unless specified.
If you enjoyed this Chicken soup with matzo balls recipe then browse more Jewish recipes, soup recipes and our most popular hainanese chicken rice recipe.
Jewish Restaurants
Displaying 4 of 4 Jewish Restaurants.
PLEASE NOTE: All submitted comments become the property of SBS. We reserve the right to edit and/or amend submitted comments. HTML tags other than paragraph, line break, bold or italics will be removed from your comment.
Featured Food & Recipes
Hot Tips
More
Deep-frying
Make sure the oil isn't too hot or the food will brown quickly without cooking fully on the inside. This is particularly important when making bulgur kofta. On the flip side, overcrowding the fryer can cool the oil too much and result in soggy, greasy food.
Glossary
More
Salted White Raddish
An essential ingredient for pad Thai for its unique taste and soft but chew texture.