Guacamole dip recipe
Created by
Guadalupe Feint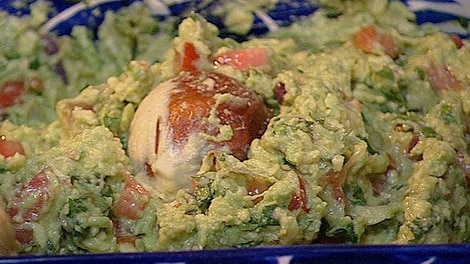 Cuisine:

Mexican

Prep Time: 5 min(s)

Makes 4 cups
This perfect, simple guacamole uses the best avocados mixed with fresh chilli, coriander, onion, tomato and lime. Guacamole should be made just before serving. To help keep the vibrant green colour of the avocados, sit the avocado stones in the prepared guacamole and remove just before serving.

For tasty variations on guacamole dip, try Rachel Allen's guacamole dip recipe, or Kathy Kordalis' guacamole dip recipe. Also, browse our Mexican recipes for more gourmet inspiration.
Ingredients
3 ripe avocados
½ fresh jalapeño chilli (optional), finely chopped
½ tbsp chopped coriander
1 red onion, chopped
1 tomato, diced
juice of ½ lime
1 tsp salt
View conversion table
Preparation
Halve the avocados, remove the seeds and use a spoon to scoop the flesh into a bowl. Add the chilli, coriander and onion. Mash together with a fork. Gently fold in the tomato, lime juice and salt. Taste for seasoning.

SBS cook's notes
Oven temperatures are for conventional; if using fan-forced (convection), reduce the temperature by 20˚C. | We use Australian tablespoons and cups: 1 teaspoon equals 5 ml; 1 tablespoon equals 20 ml; 1 cup equals 250 ml. | All herbs are fresh (unless specified) and cups are lightly packed. | All vegetables are medium size and peeled, unless specified. | All eggs are 55–60 g, unless specified.
If you enjoyed this Guacamole dip recipe then browse more Mexican recipes, side dish recipes, vegan recipes and our most popular hainanese chicken rice recipe.
Mexican Restaurants
Displaying 10 of 241 Mexican Restaurants.
PLEASE NOTE: All submitted comments become the property of SBS. We reserve the right to edit and/or amend submitted comments. HTML tags other than paragraph, line break, bold or italics will be removed from your comment.
Featured Food & Recipes
Hot Tips
More
Seasoning cast iron
Seasoning a new cast iron frying pan will help to keep it in good condition and help to avoid odours and flavours sticking to the pan. Coat the inside of the pan in oil and place in a hot oven for 30 - 60 minutes. Allow it to cool before wiping it clean.
Glossary
More
Habanero Chillies
Habanero (fresh) is a super super hot variety of chilli.