Tortilla soup recipe (sopa de tortilla)
Created by
Gina Castaneda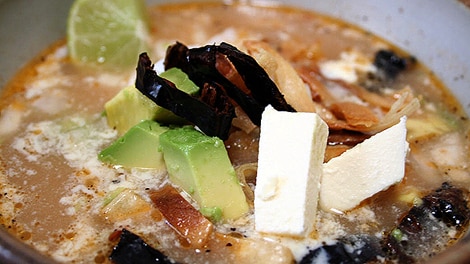 Cuisine:

Mexican

Prep Time: 10 min(s)
Cook Time: 35 min(s)

Serves 6
There's a nice depth of flavour in this soup, which comes from the roasted tomatoes and onion and from the raisin-like dried chillies called pasilla. Strips of crunchy, fried tortillas are added to the soup just before serving. Fetta is not traditional but it makes a good substitute for Mexican cheese.
Ingredients
3 ripe tomatoes, halved
½ onion
2 garlic cloves
3 dried pasilla chillies
1.5 litres chicken stock
oil
salt and pepper
8–10 corn tortillas, cut in half, then in strips
½ red onion, diced
150 g fetta, diced
2 avocados, diced
3 limes, halved
125 ml thick cream
View conversion table
Preparation
Roast the tomatoes, onion and garlic in a cast-iron pan until charred. Toast the chillies by holding them with tongs over a gas flame (they may catch fire). This heightens their flavour. Soak the chillies in hot water until soft, then remove the seeds.

Puree the tomatoes, onion, garlic and 2 of the chillies in a blender with a bit of the stock until smooth. Heat a little oil in a frying pan and sauté the tomato puree for a few minutes, then remove from the heat.

Bring the remaining stock to the boil in a saucepan and stir in the tomato puree. Season with salt and pepper and cook, covered, over medium heat for 15 minutes.

Wipe out the frying pan and add a little more oil. Fry the tortilla strips in batches until golden brown. Remove and drain on paper towel.

Arrange the red onion, fetta, avocado and lime on a plate. Slice the remaining chilli and add to the plate. Put the cream in a bowl or jug.

Add some of the fried tortilla to the soup. Ladle the soup into bowls and garnish with more tortilla. Each person can add red onion, fetta, avocado, lime, chilli and cream to taste.

SBS cook's notes
Oven temperatures are for conventional; if using fan-forced (convection), reduce the temperature by 20˚C. | We use Australian tablespoons and cups: 1 teaspoon equals 5 ml; 1 tablespoon equals 20 ml; 1 cup equals 250 ml. | All herbs are fresh (unless specified) and cups are lightly packed. | All vegetables are medium size and peeled, unless specified. | All eggs are 55–60 g, unless specified.
If you enjoyed this Tortilla soup recipe (sopa de tortilla) then browse more Mexican recipes, soup recipes and our most popular hainanese chicken rice recipe.
Mexican Restaurants
Displaying 10 of 241 Mexican Restaurants.
PLEASE NOTE: All submitted comments become the property of SBS. We reserve the right to edit and/or amend submitted comments. HTML tags other than paragraph, line break, bold or italics will be removed from your comment.
Featured Food & Recipes
Hot Tips
More
Perfect charcoal
When cooking on the charcoal grill, excessive flames can impart an unpleasant taste to the food. A good sprinkle of salt on the flames will help keep them at bay.
Glossary
More
Snake beans
Also known as Chinese long beans, these dark green beans can be up to 1 metre in length and are usually sold in bunches. They do not need stringing prior to use and are mostly chopped and added to stir-fries.