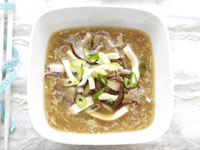 Photography: Tanya Zouev
Cuisine:

Modern Asian

Servings:

Serves 4

Cooking Time:

Less than 30 minutes

Course:

Entree, Lunch
Ingredients
2 tablespoons rice vinegar, plus extra to serve
2 tablespoons light soy sauce
2 tablespoons cornflour
200g pork fillet, finely sliced
4 cups (1L) chicken stock
6 fresh shiitake mushrooms, sliced
125g silken firm tofu, cut into thin strips
1 egg, well beaten
1 tablespoons sesame oil
chilli oil and sliced green onions (shallots), to serve
View conversion table
Preparation
1. In a bowl combine rice vinegar, soy, 1 tablespoon of cornflour and pork. In another bowl combine remaining cornflour with 1/4 cup water.

2. Heat chicken stock in a saucepan with mushrooms on medium. Bring to a gentle boil, reduce heat and simmer for 1 minute. Add cornflour and water mixture, stirring for 1 minute, until thickened slightly.

3. Add pork and tofu, and simmer, stirring, for 2 minutes. Season with freshly ground pepper. Stir in beaten egg. Remove from heat and add sesame oil and a few drops of chilli oil. Ladle into bowls and garnish with sliced green onion. Serve with extra chilli oil.


If you enjoyed this Hot and sour soup recipe then browse more Modern Australian recipes, Modern Asian recipes, low-fat recipes, low-carb recipes, low-cholesterol recipes and our most popular hainanese chicken rice recipe.
Modern Asian Restaurants
Displaying 10 of 378 Modern Asian Restaurants.
PLEASE NOTE: All submitted comments become the property of SBS. We reserve the right to edit and/or amend submitted comments. HTML tags other than paragraph, line break, bold or italics will be removed from your comment.
Featured Food & Recipes
Hot Tips
More
Tearing basil leaves
Tear basil leaves with your fingers rather than chopping with a knife. The steel of a knife oxidizes the basil and will turn the cut edge of the basil black.
Glossary
More
Saltimbocca
A dish consisting of rolled pieces of veal or poultry, cooked with herbs, bacon and other flavourings. The word comes from the Italian for 'leap into the mouth'.