Green mole recipe (mole verde) with pork
Created by
Kimberley Chiswell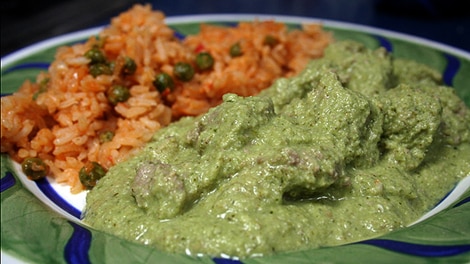 Cuisine:

Mexican

Prep Time: 10 min(s)
Cook Time: 1 hr(s) 10 min(s)

Serves 6
Tender pork cooked in a beautiful, fresh green mole, ingeniously coloured by the pumpkin seeds, vegetables, green chillies and herbs. Serve with Mexican rice and corn tortillas.
Ingredients
1 kg pork leg meat, cut into 2 cm cubes
1 bay leaf
½ small onion
salt
3 tbsp sesame seeds
50 g almonds
100 g pumpkin seeds
15 spring onions, roughly chopped
1 garlic clove
400 g tin tomatillos (Mexican tomatoes)
1 large green capsicum, seeded and roughly chopped
2 hot green chillies
1 bunch coriander, roughly chopped
ground cumin
pepper
olive oil
View conversion table
Preparation
Place the pork in a saucepan with the bay leaf, onion and salt. Cover with water and bring to the boil, then simmer until tender (approximately 1 hour).

Toast the sesame seeds in a dry frying pan until golden. Remove from the pan and repeat with the almonds and then the pumpkin seeds. Puree the seeds and nuts in a blender with a little water from the pork. Set aside.

Put the spring onions, garlic, tomatillos, capsicum, chilli and coriander in the blender with cumin, salt and pepper to taste. Add 2 cups of water from the pork and puree to a bright green sauce.

Heat a little oil in a saucepan and fry the seed and nut mixture for a few minutes. Add the green sauce and simmer for 5 minutes. Add the cooked pork and simmer for a few more minutes.

SBS cook's notes
Oven temperatures are for conventional; if using fan-forced (convection), reduce the temperature by 20˚C. | We use Australian tablespoons and cups: 1 teaspoon equals 5 ml; 1 tablespoon equals 20 ml; 1 cup equals 250 ml. | All herbs are fresh (unless specified) and cups are lightly packed. | All vegetables are medium size and peeled, unless specified. | All eggs are 55–60 g, unless specified.
If you enjoyed this Green mole recipe (mole verde) with pork then browse more Mexican recipes, meat recipes and our most popular hainanese chicken rice recipe.
Mexican Restaurants
Displaying 10 of 241 Mexican Restaurants.
PLEASE NOTE: All submitted comments become the property of SBS. We reserve the right to edit and/or amend submitted comments. HTML tags other than paragraph, line break, bold or italics will be removed from your comment.
Featured Food & Recipes
Hot Tips
More
Cheats chicken stock
Using the left over chicken carcass from your roast will provide you with a good starting point for a simple chicken stock. Through in any spare stock vegetables: such as carrot, onion, celery or parsley stalks. Cover in water, bring to the boil and then reduce to a simmer for an hour.
Glossary
More
Basmati Rice
A fragrant rice native to India and Pakistan.